We are rushing into March next week, but instead of warm spring vibes we are still freezing with temperatures below zero! To escape the ice cold and windy weather outside I have prepared one of my favourite recipes for you which guarantees happiness: Vanilla waffles with blueberries. In additon I am sharing with you 5 ways to escape the winter blues!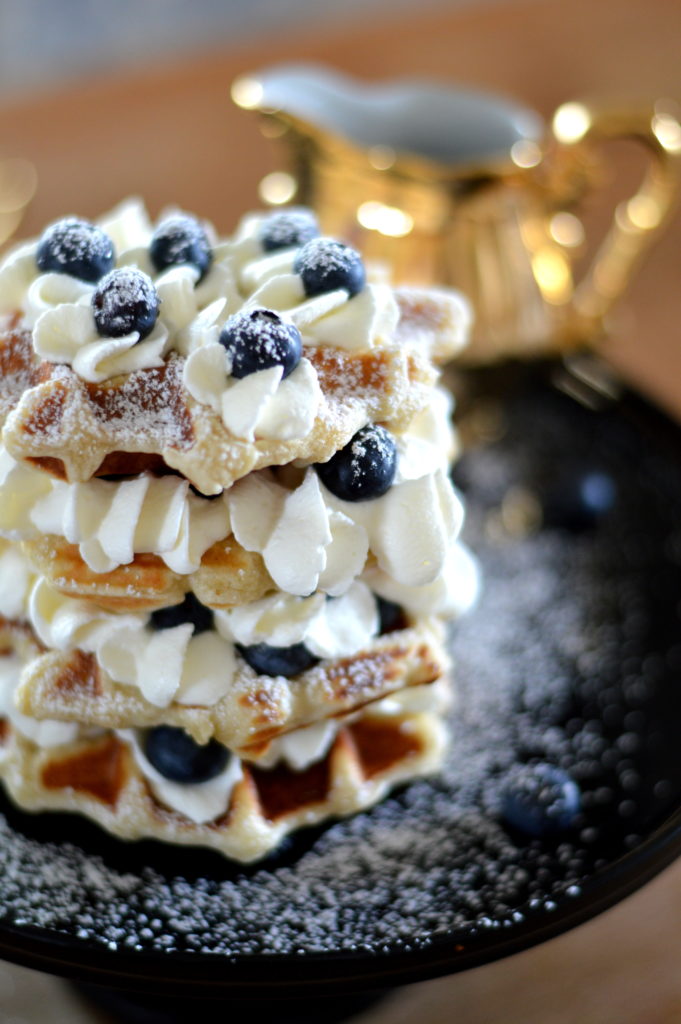 1. Spring cleaning
The best start to prepare your home for spring is basically cleaning up everything. I know for most of you this is not your favourite activity, but I promise it makes such a difference! And after removing last christmas decoration there is finally space for new colorful spring decoration!
2. Flowers
Coming to the next topic: Flowers. I always sourround myself with beautiful flowers all around our home. Every flower shop is selling colorful tulips by now, which you can place simply everywhere. In my opinion flowers are an upgrade to every home and make it even more cozy!
3. Plan your next trip
The feeling after I book a flight, hotel, airbnb or even a train ticket is so good! The joy in advance of a trip is simply the best. Therefore I am as well a big fan of different Countdown Apps! It puts a smile on my face everytime I am thinking of upcoming trips. To escape the winter blues we already planning some trips in Europe such as a big tuscany tour in May! So I am dreaming already of warm Italien nights with a glass of wine in my hand and a beautiful view of some old olive trees.
4. Go outside
Even if the wind blows you literally away, it is not only very healthy to go outside but also important for your vitamin balance. So put yourself into really warm clothes, prepare a warm drink (such as a hot chocolte or mulled wine) and explore the wonderful winter wonderland outside.
5. Baking

Now we arrived at my favourite topic: Baking! As much as I love summer recipes such as ice cream sandwiches or light Lavender macarons I am as well a big fan of feel good food which taste even better when its cold and uncomfortable outside. Enjoy a hot chocolate and lukewarm Franzbrötchen after a long walk outside or standing hours in the kitchen preparing a fancy cake is so good. Not only I forget about the time when I am in the kitchen, but as well I get into such a good mood preparing food for others! One example are these delicious waffles with blueberries!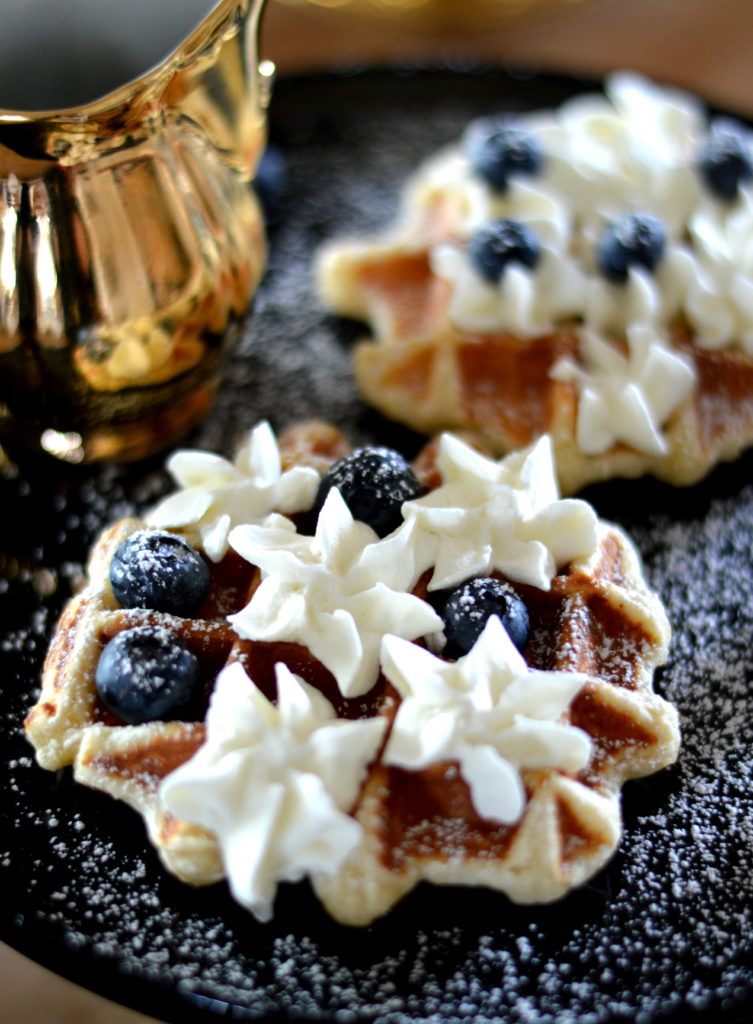 The perfect thing about waffles is that they are easy to make and are best served immediately. Leftover waffles can be frozen for up to 3 months and toasted straight out of the freezer.
On one hand these waffles are very light because of the cottage cheese which is used in the dough. But on the other hand they are as well very rich because of the yeast – perfect breakfast or afternoon treat. The intense vanilla flavor blends very well with the vanilla cream. Topped with fresh blueberries these sweeties make sure that you catch up with your vitamin balance 😉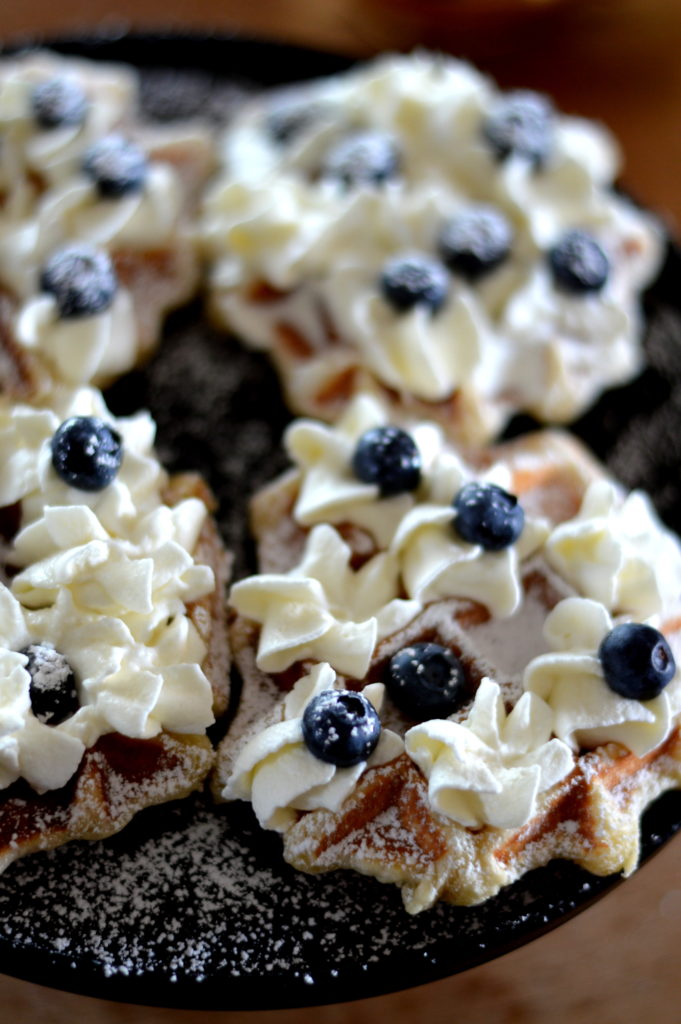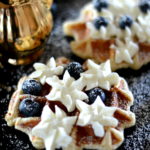 VANILLA WAFFLES WITH BLUEBERRIES
Prep Time
1
hour
30
minutes
Total Time
1
hour
40
minutes
Ingredients
For the waffles:
500

g

flour

21

g

fresh yeast

75

g

white sugar

1-2

tbsp.

vanilla extract

200

ml

lukewarm milk

50

g

butter

250

g

cottage cheese

2

eggs

pinch of

salt

4

tbsp.

oil
For the vanilla cream:
150

g

heavy cream

2

tbsp.

vanilla sugar

200

g

blueberries

4

tbsp.

confectioner's sugar
Instructions
In a small bowl crumble yeast and mix with 5 tbsp. of the warm milk and one tbsp. of the white sugar. Let the yeast work for 5-10 minutes.

In another bowl whisk together flour and the rest oft the sugar and salt. Then add the yeast mix, the rest of the milk, the vanilla extract, the cottage cheese and the melted butter. Knead until a smooth dough comes out. Now cover with a cotton dish towel and put it at a warm place and let the dough work again for 60 minutes.

Knead the dough again and divide into 12 small portions. Prepare preheated waffle iron with oil or non-stick cooking spray. Pour one portion at a time onto hot waffle iron. Cook until golden brown.

Waffles are best if served immediately, but re-heat very well in the toaster. Leftover waffles can be frozen for up to 3 months and toasted straight out of the freezer.

For the vanilla cream blend heavy cream with vanilla sugar until it becomes stiff. Decorate waffles with vanilla cream, fresh blueberries and confectioner's sugar.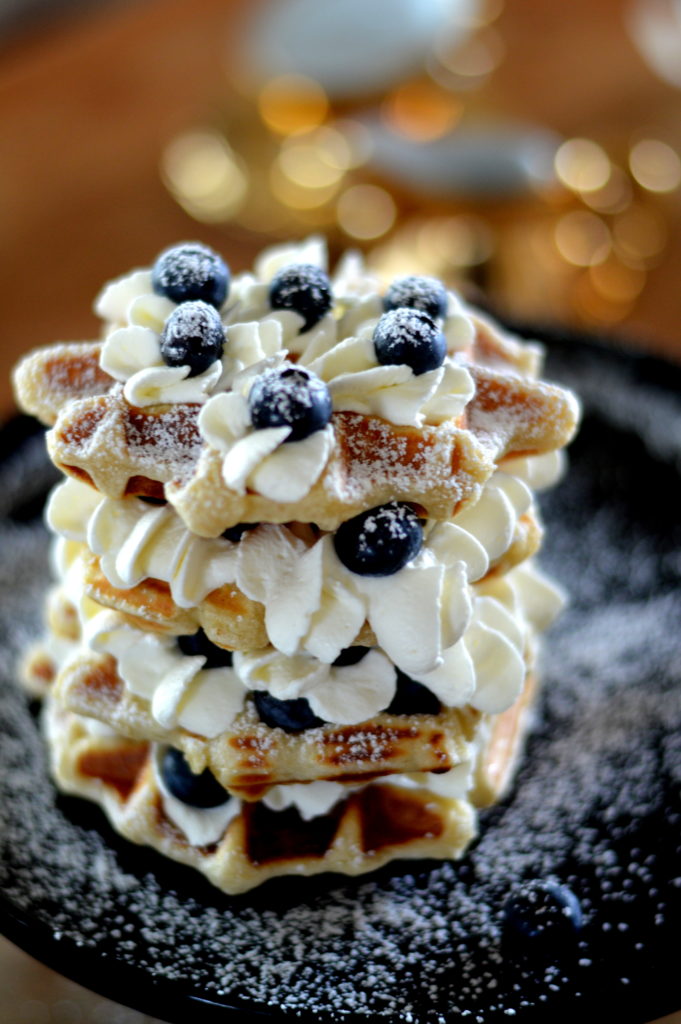 Lots of Love!
Caprice