Honestly do we need an occasion to eat fancy cake like this Orange praliné Whiskey cake?
I think the answer is defintely 'no'! There are many reasons which are worth eating cake. It can be a best friends date, a family reunion, a little somehing for yourself after a stressful day or a completed workout or it can be a surprise for a lovely person. The last one was my reason to bake this orange praliné whiskey cake.
This time my grandparents were the lucky ones who had the pleasure to enjoy this cake. To top the little cake surprise we treated ourselves with a glass of champagne. This shows that you don't need an occassion to celebrate because everytime is the right time to enjoy the moment… and a piece of fancy cake!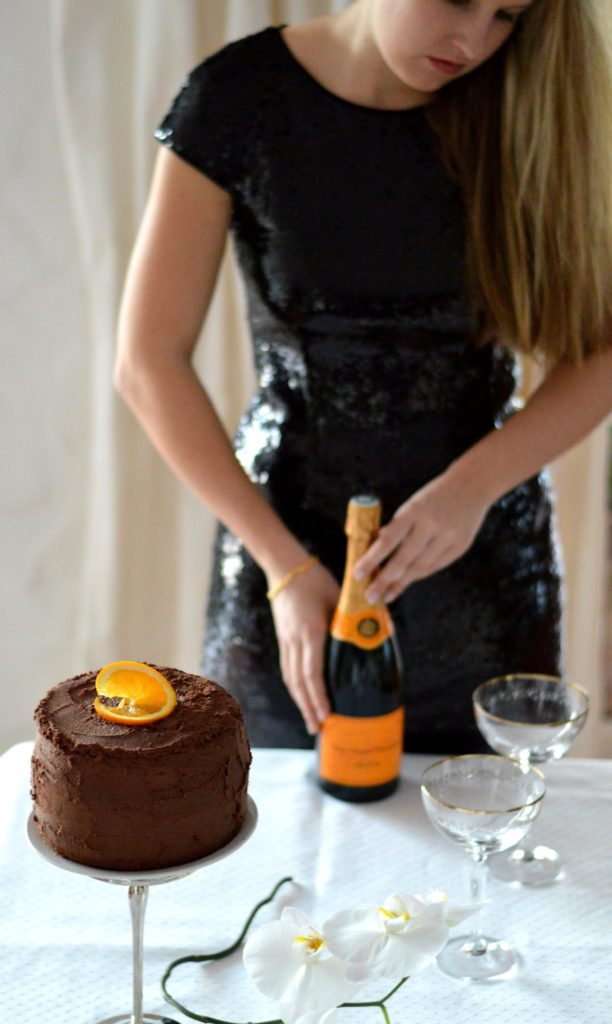 Nevertheless my grandparents do not have internet or even a computer, I will take the opportunity to say them how much I love them. I am proud of being their granddaughter and hope to see them again very soon!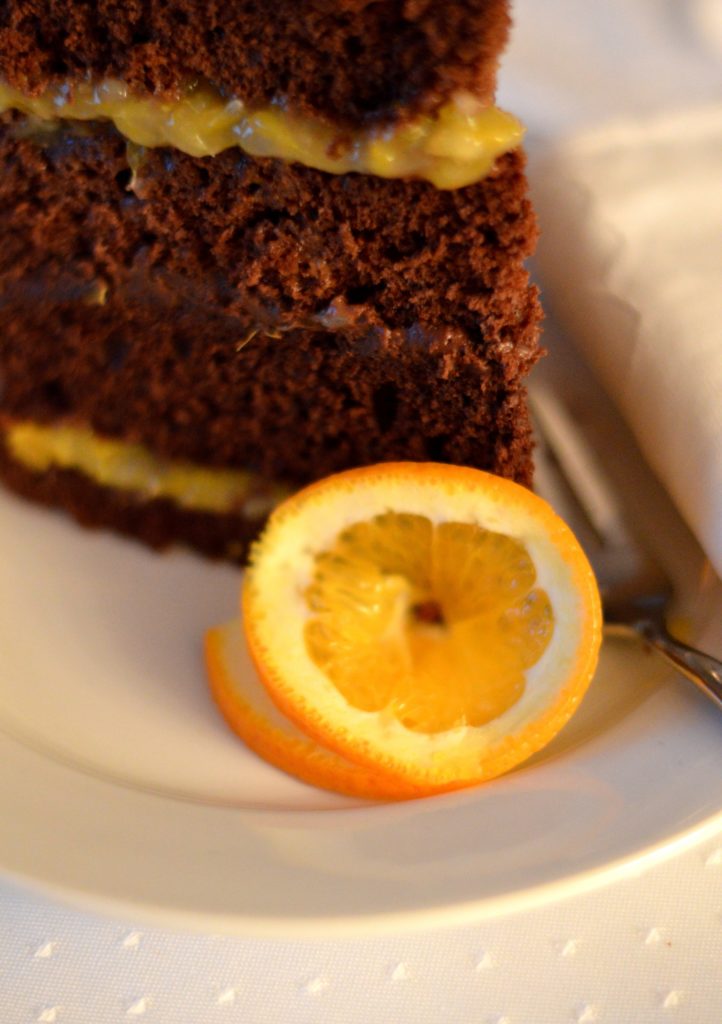 … Back to the creamy chocolate praliné cake, with a fruity orange filling and a slight taste of whiskey. This recipe is a little more complex, because you need to fillit the oranges for the orange layering. But if you're in a hurry just replace the self made orange layering with orange marmelade or lemon curd! Then your cake will be ready to eat even faster! Somehow or other the cake is absolutely worth the effort! Just give it a go!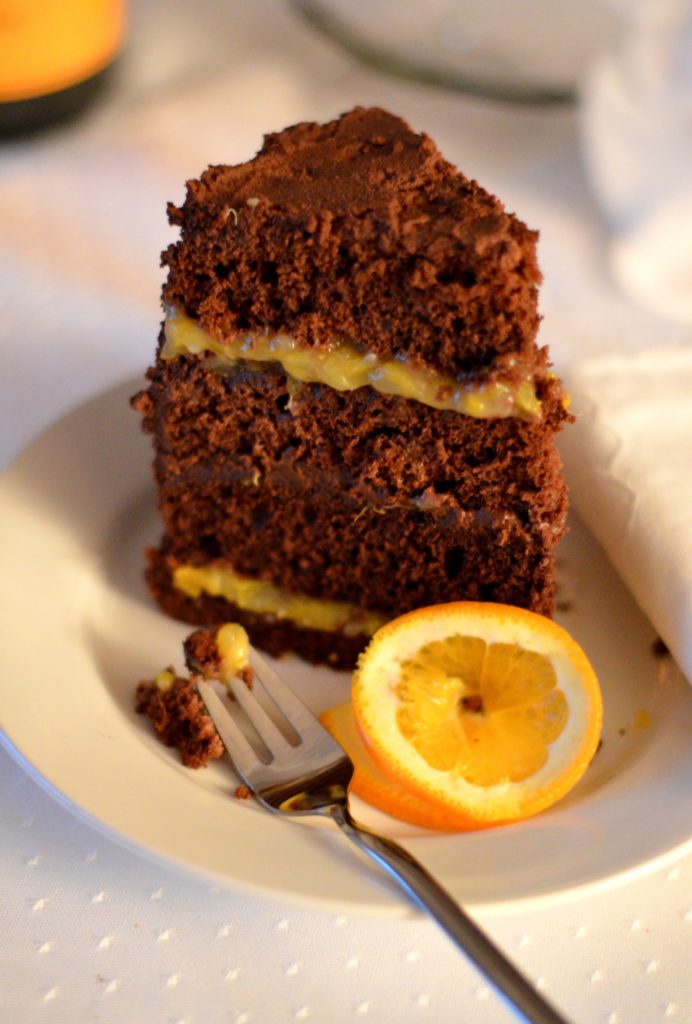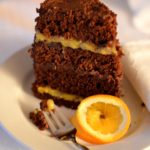 ORANGE PRALINÈ WHISKEY CAKE
Total Time
5
hours
30
minutes
Ingredients
For the praliné creme:
450

g

good quality chocolate

500

g

heavy cream

4

tbsp

Whiskey

75

g

buter

3

tbsp

confectioner's sugar

1

tbsp

orange zest
For the biskuit:
240

g

flour

4

tbsp

cacao powder

1

tbsp

baking powder

10

eggs

250

g

sugar

pinch

of salt

2

tbsp

vanilla sugar
For the orange filling:
8

oranges

25

g

starch

3

tbsp

sugar

4

tbsp

orange liquor
Instructions
Prepare praliné creme: Cut chocolate into smaller chunks, add heavy cream and whiskey and boil over a water bath until chocolate has melted completely. Put in the fridge for at least 2 hours or up to one night. In another bowl cream butter, confectioner's sugar and orange zest together and slowy add the chocolate-whiskey mix. Cream everything together and store at room temperature.

Prepare orange layering: Squeeze 4 of the 8 oranges (should be 350 ml). Peel the other oranges and remove all white pieces of the skin, now fillit the oranges. Take 50 ml of the squeezed orange juice and mix with starch. Let the rest of the orange juice (300 ml) boil together with the sugar and thicken slightly with the starch mix. Let it cool and then add the orange filits.

Prepare biskuits: You have to bake two biskuits one after another. For the first one divide 5 eggs and beat the egg whites until stiff, while beating add 125 g sugar and 1 tbsp. vanilla sugar. In a bowl whisk together 120 g flour, 2 tbsp. cacao powder and 0,5 tbsp. baking powder. Add the egg yorks to the egg white-mix and then sift the flour mix until you get a light and fluffy batter. Repeat exactely the same with the other half of the ingredients.

Preheat oven to 180°C . Prepare two baking pans with baking paper (do not oil the pans!). Fill each pan with the same amount of batter and bake for 30 minutes. Then remove from oven. Remove cake from baking pans and let them cool.

Now divide both cakes in the middle until you get four cake bottoms of the same size. Now start layering by taking the first cake bottom and pour over 2 tbsp. of liquour. Spread with orange layering. Top with the next cake bottom. Repeat this with the other cakes bottoms, if you like you can also use the praliné cream for layering. In the end cover the whole cake with the praliné cream and decorate with orange zest.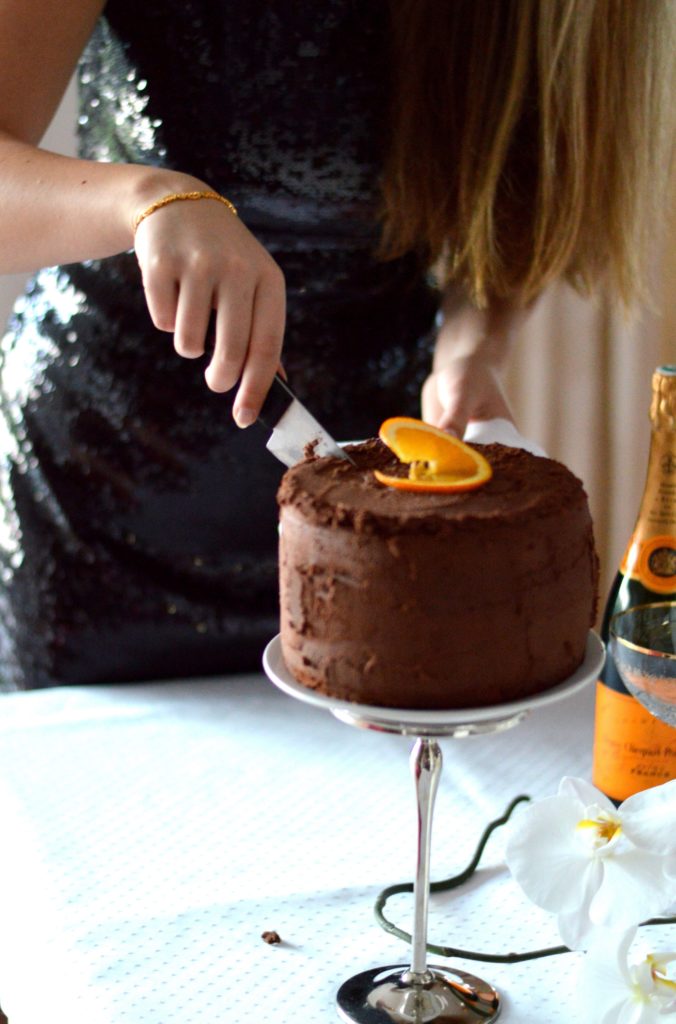 Cheers!
Lots of Love
Caprice