In germany it's traditional to bake a variety of christmas cookies the time before christmas! And everyone in our family is taking traditions serious, therefore our home is stuffed with many different cookies, baked by my mum, grandma, friends or by myself. To give you a short insight I gonna present you three of my favourite christmas cookies which a orginal from different places in germany.  So, I would like to take you on a christmas cookie journey all around germany.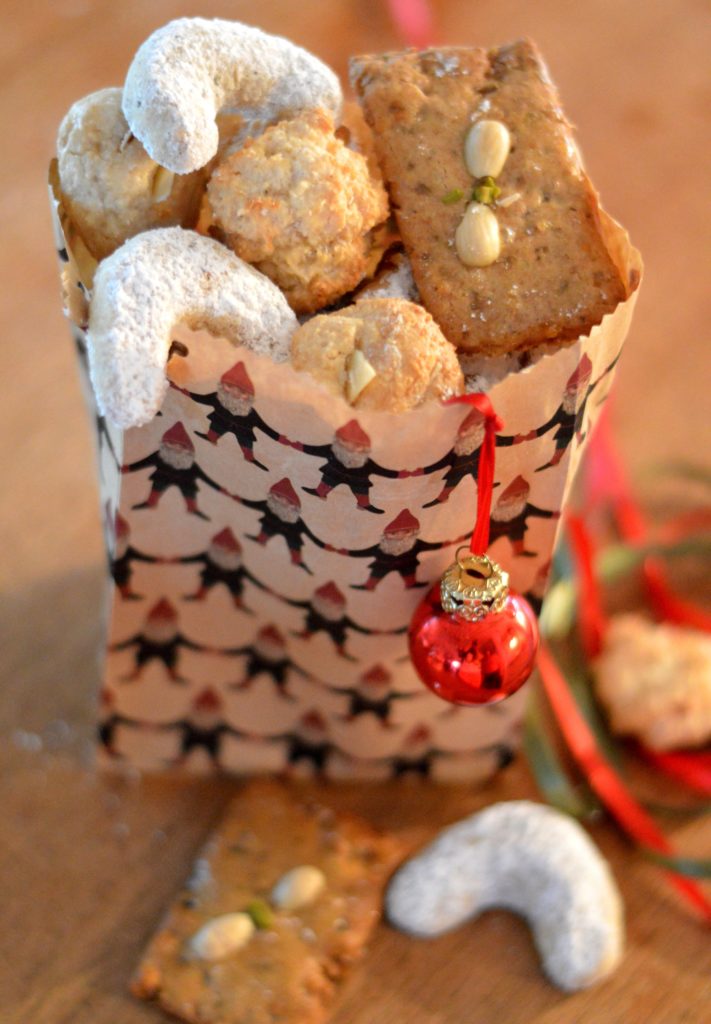 We start with my all time favourite christmas cookies: Vanillekipferl. These are small, crescent shaped biscuits which have an intensive vanilla taste. There are original from Bavaria (south of germany) but nowadays you bake and eat them all around germany.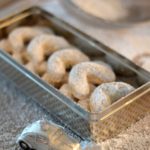 VANILLEKIPFERL
Prep Time
2
hours
30
minutes
Total Time
2
hours
42
minutes
Ingredients
280

g

flour

170

g

sugar

100

g

grounded almonds

pinch of

salt

210

g

cold butter

100

g

confectioners' sugar

2

tbsp

vanilla sugar

1

vanilla bean
Instructions
Mix flour, 70 sugar, salt and grounded almonds. Add the butter and knead to a dough and wrap into plastic wrap and put into the fridge for 2 hours.

Preheat oven to 180°C, prepare baking tray with baking paper. Remove dough from fridge and form about 1 cm thick half moons, be sure to flour your hands when forming the "Kipferl". Put on the prepared sheets and bake for about 12 minutes.

Now mix confectioners' sugar, vanilla sugar and the rest of the sugar (100g), remove vanilla from vanilla bean and mix well into the sugar mix. Remove cookies from oven and take a fork to carefully turn over the Kipferl until they are completely covered with sugar.

Store them in a cookie jar (best before 4-6 weeks).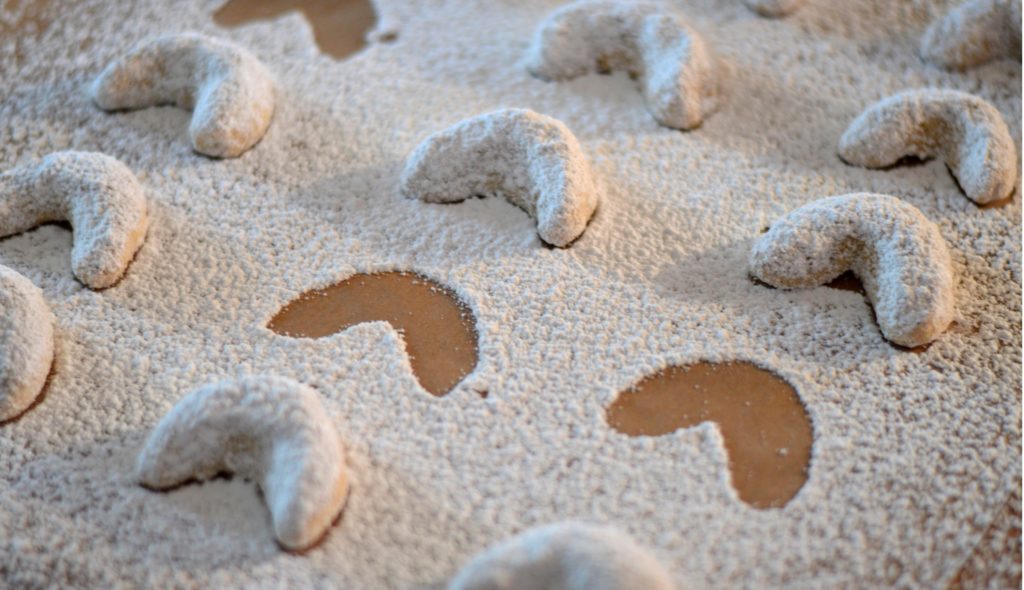 Our second destination is Lübeck which is located in the very north of germany. Lübeck is an absolutely beautiful little town and is famous for their good quality marzipan! Marzipan is the main ingredient for Markonen and gives them the moist and not dry touch! In addition the recipes calls for coconut flakes which matches perfect with the marzipan!


Makronen (with Lübecker marzipan)
Ingredients:
250 g good quality marzipan
3 egg whites
0,5 lemon
150 g confectioners' sugar
100 g coconut flakes
Directions:
Grater the marzipan. Wash lemon with hot water, dry with a paper towel and grater the zest. Beat egg whites until stiff, slowly add 75 g of the confectioners' sugar and the marzipan. At last add the rest of the confectioners' sugar (75g), coconut flakes and lemon zest.
Preheat oven to 160°C and prepare baking trays with baking paper. Pour dough into a piping bag with a round tip and place (walnut size) balls on the baking sheet. Bake for 15 minutes.
Best before 3 weeks.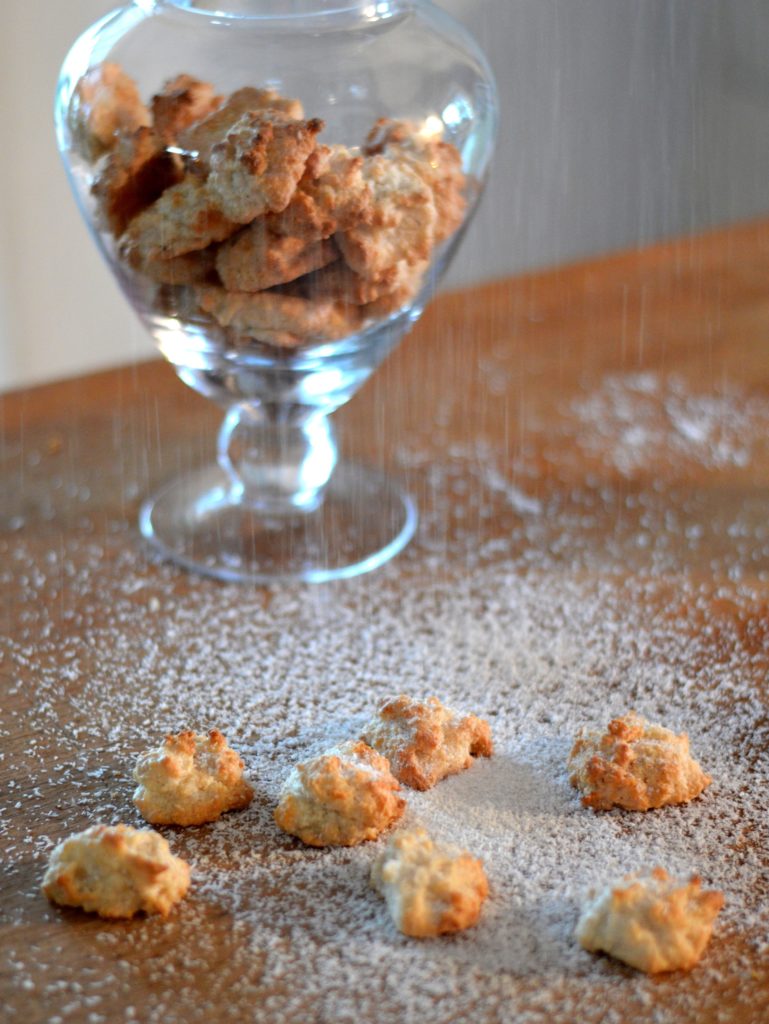 The last location for today is Aachen which is placed in the very west of germany. Aachen is very famous because of the 'Printen' which are original from there. Printen are the christmas cookies par excellence! They hava a rich and honey taste, refinded with christmas spices and decorates with almonds and pistachios! These cookies made it all around germany and taste so much better a few weeks after baking! So make sure to bake them before christmas and store them together with a piece of apple skin, this prevents the cookies from drying out.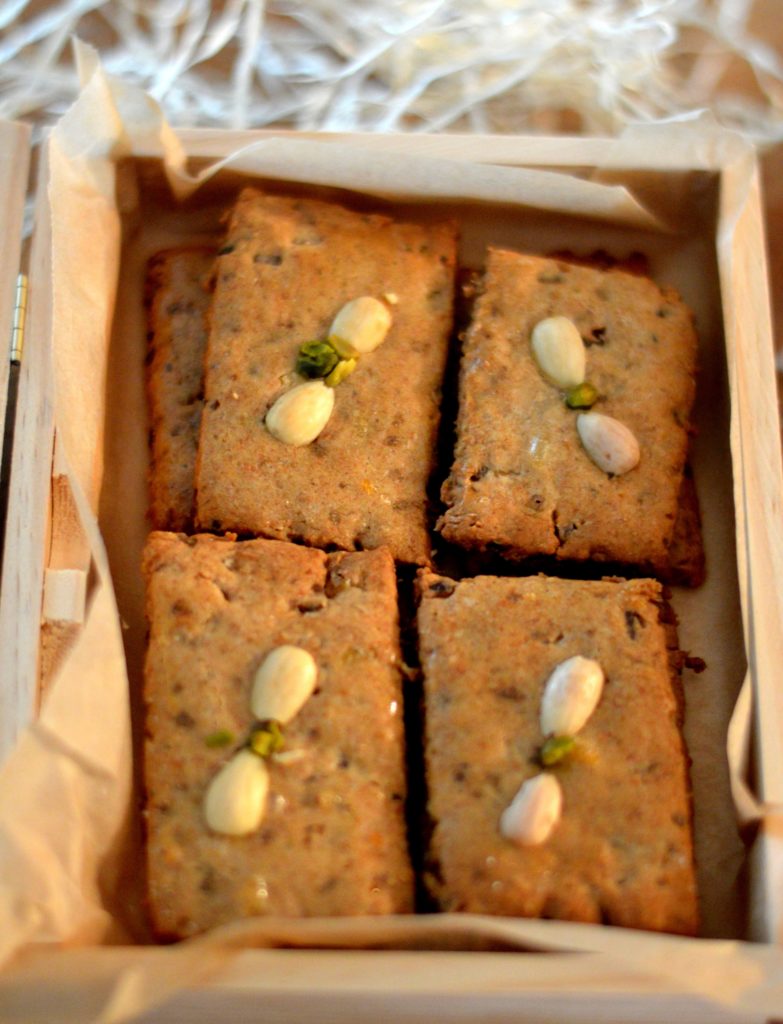 Aachener Printen
Ingredients:
80 g crumbled rock sugar
1 tbsp. fine minced candied orange peel
100 g soft butter
150 g honey
250 g spelt flour
pinch of salt
1 tbsp. gingerbread spice
2 tbsp. baking powder
4 tbsp. light marmelade (like apricot)
50 g peeled almond halves
1 tbsp. pistachios
Directions:
Cream butter and honey together. Add the fine minced candied orange peel, sugar, flour, salt, spices and baking powder and knead until you get a smooth dough. Wrap in plastic wrap and put in the fridge for 1 hour.
Preheat oven to 180°C and prepare baking trays with baking paper. Remove dough from fridge and roll out the dough until its about 0,5 cm thick. Take a knife and cut into same size rectangles. Put on the prepared trays. Heat marmelade until liquid and spread cookies with marmelade.
Decorate cookies with almonds and pistachios. Bake for 12-15 minutes. Remore from oven and let them cool. Best before 4-6 weeks (store in cookie jar together with piece of apple skin).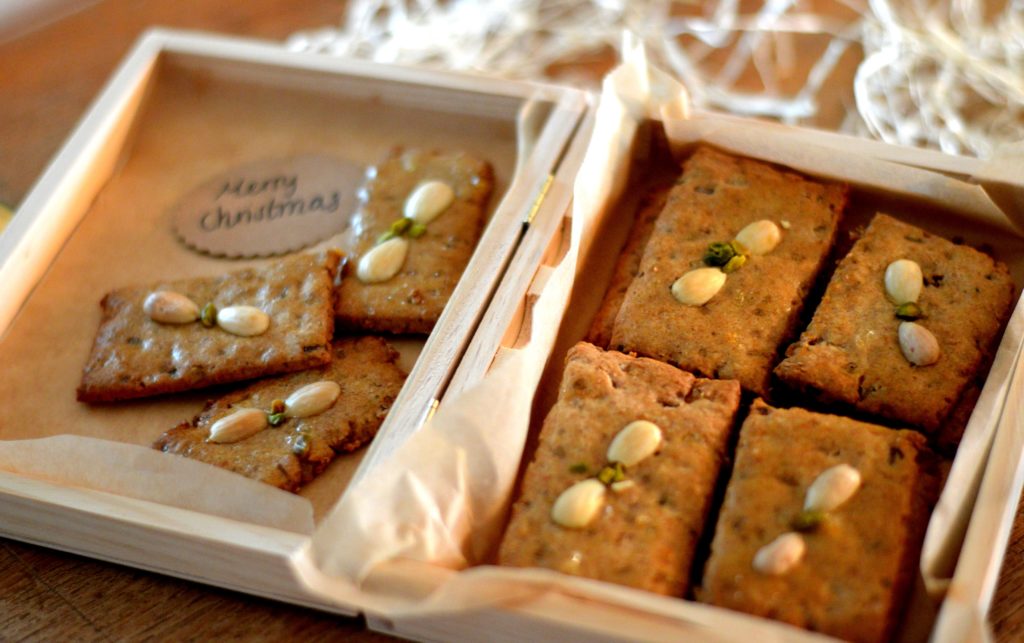 Have fun baking!
xxx
Caprice