Well, with this recipe it is official autumn for me! Time for apples, nuts, pumpkins, Halloween, long movie nights, rainy walks outside and cold weather. I am not a big fan of this dark and rainy time of the year, therefore I wanted to make the start of this season more easy. And is there anything better than an easy dessert (like this caramel apple cookie crumble lasagne?) together with a hot tea while sitting on your cozy sofa and watch the rain outside?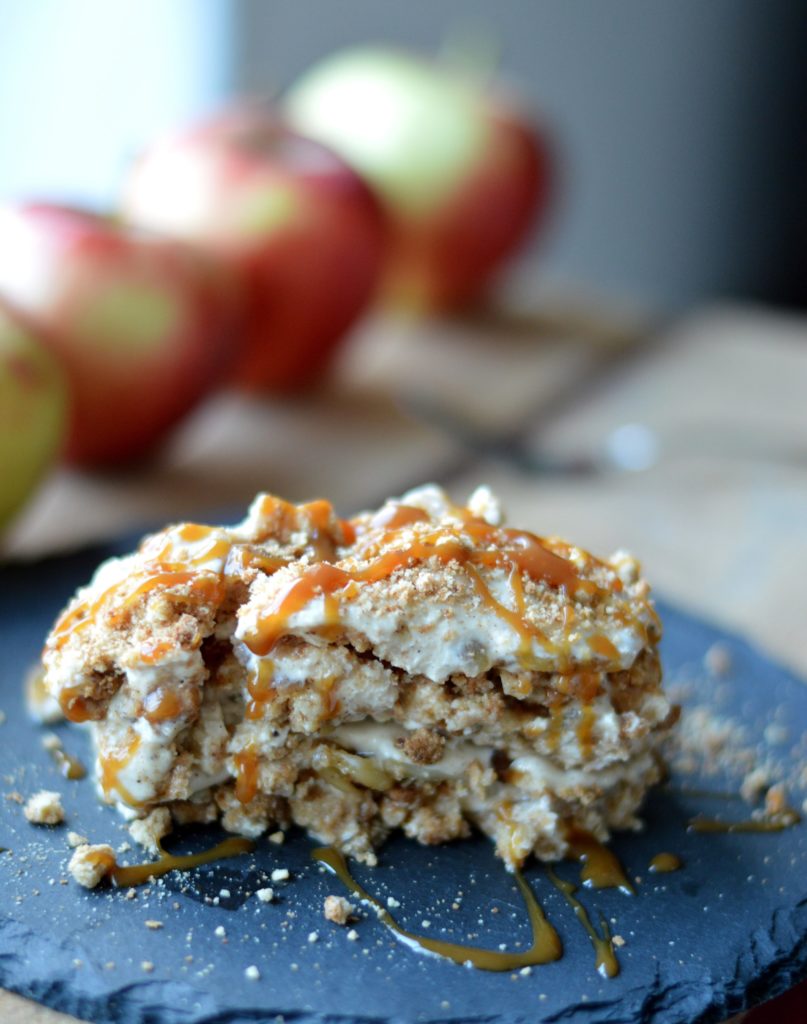 I have to admit that i love italian food, of course the typical dishes as pizza, pasta and Lasagne, but also the sweet things as ice cream, Tiramisu or Cantuccini. Inspired by italian influences I thought about a dessert which is not that typical in Italy: A sweet Lasagne! The clue of this recipe is that it is based on different layers of apples, cookies, caramel and a smooth cream cheese cream.
You are just a few steps away from the most delicious apple dessert 🙂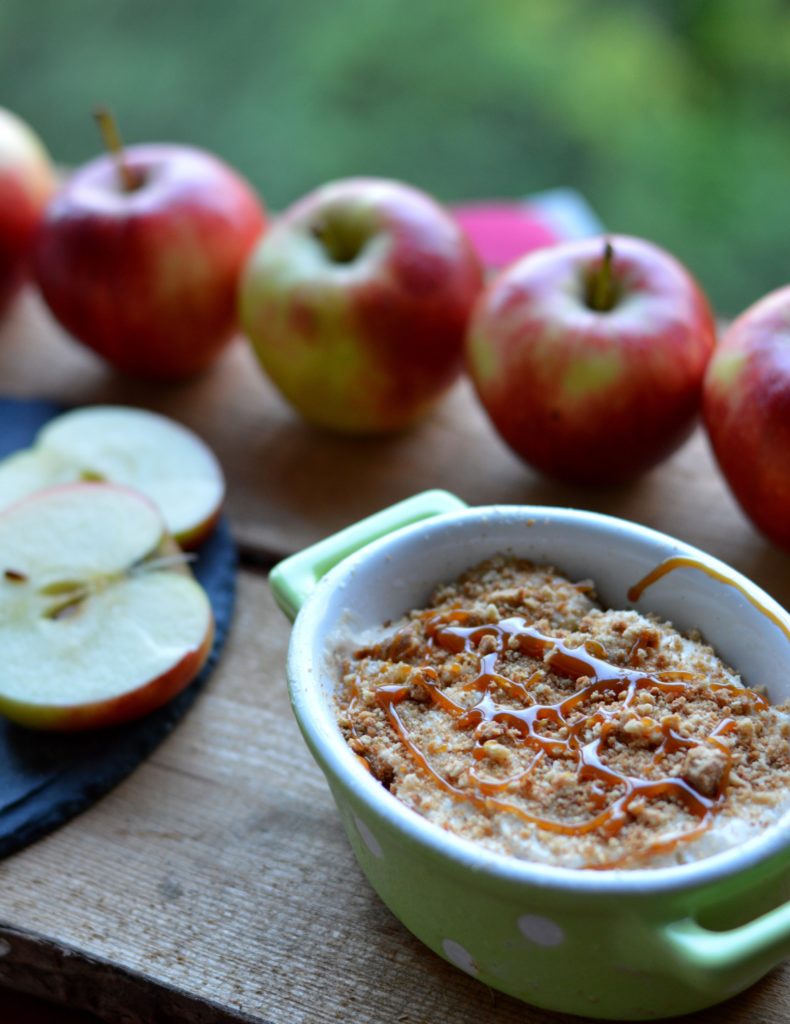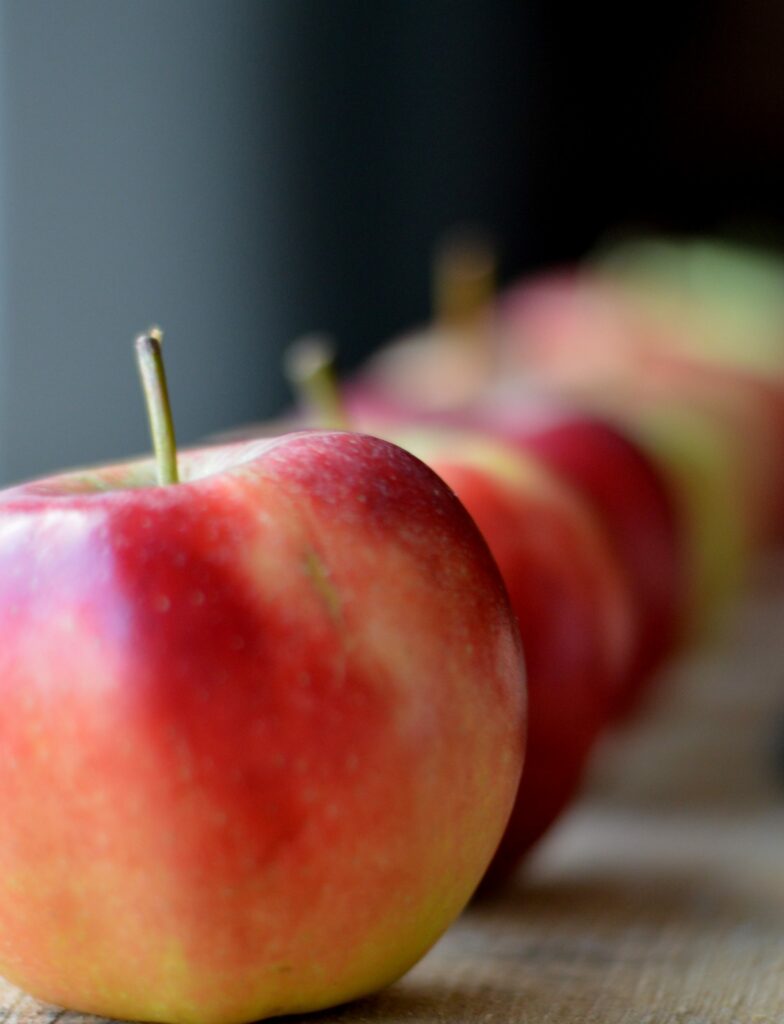 CARAMEL APPLE COOKIE CRUMBLE LASAGNE
19/10/2014
: 30 min
: 4 hr
: 4 hr 30 min
: medium
Soulfood with layers of apples, cookies, caramel and a smooth cream cheese cream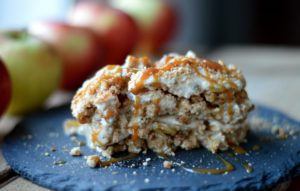 Ingredients
For the filling:
3-4 apples (sour ones)
juice of 0,5 lemon
1 tbsp starch flour
1 tbsp cinnamon
50 g brown sugar
1 tbsp marple syrup
For the cream:
120 g cream cheese
60 g confectioners sugar
1 tbsp brown sugar
1 tbsp cinnamon
60 g heavy cream
1 tbsp vanilla
2 tbsp caramel sauce
300 g cottage cheese
200 g whole wheat cookies
more caramel for decoration
Directions
Step 1

Remove skin of the apples and cut into smaller chunks. Mix with lemon juice. In a bowl whisk together starch flour, brown sugar and cinnamon. Put apples in a saucepan, add dry ingredients and the marple syrup. Let it boil and slowly cooked for about abour 10 minutes or until apples are smooth.

Step 2

Cream cream cheese together with confectioners sugar, brown sugar, heavy cream and vanilla. At last add cottage cheese and caramel sauce.

Step 3

Take a casserole or any other dish and pour one third of the cream in it. Crumble cookies and sprinkle half of them on the cream. Take half of the apples on the crumbles. Repeat this layering with the rest of the ingredients: cream, cookie crumbles and apples. The last layer should be cream of cookie crumbles.

Step 4

Chill for at least 4 hours in the fridge. For an extra cooling effect (semifreddo) put in your freezer for 30 minutes.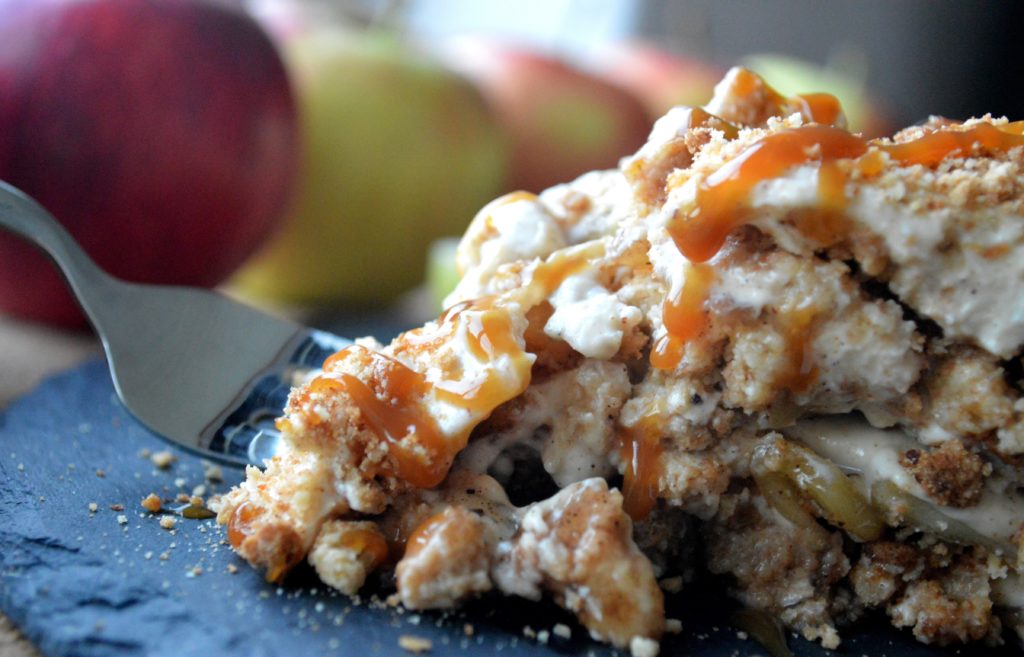 Lots of love
Caprice