This whiskey cake is dedicated to a very special Gentleman… My big brother!
Big brothers are a blessing! As you maybe already realized my family means a lot to me. To be honest my family is my anchor, my constant that I could always trust on in my worst and my best times.
Especially my big brother is a role model for me. When it comes to his birthday this year I wanted to create something special, because he is turning 30 this year! Time to celebrate and time for a fancy cake, right?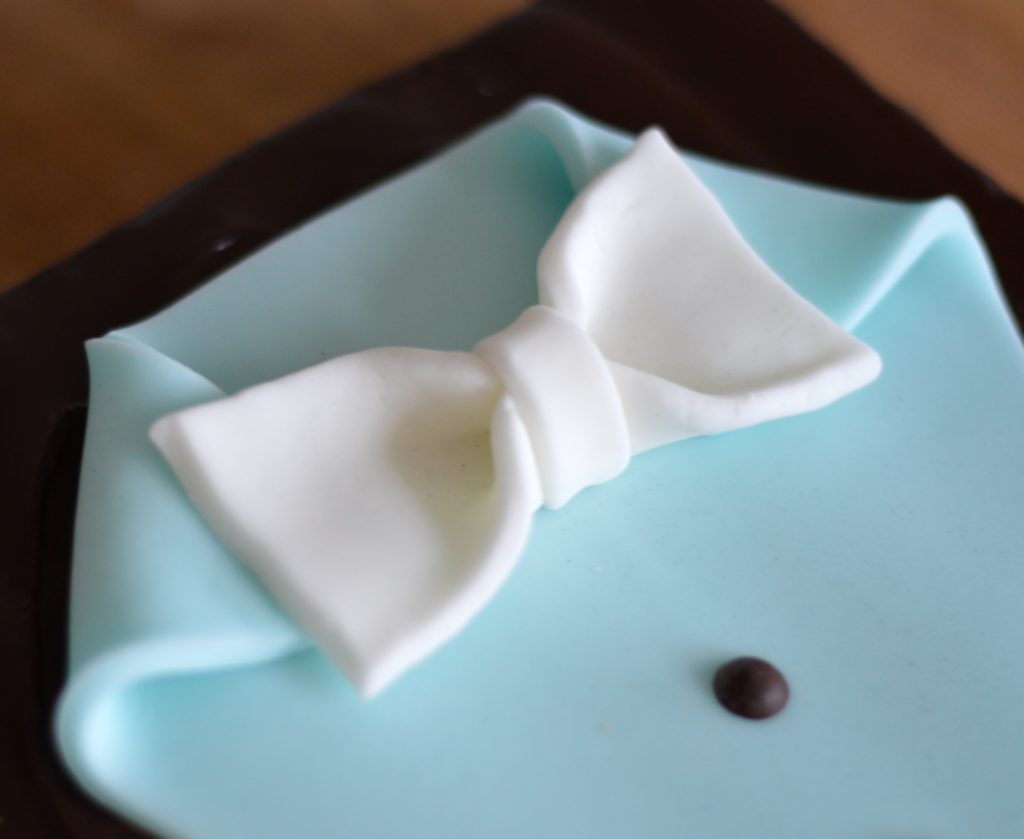 It was amazing growing up with someone who was always there, protecting me (such as defending me from big dogs or protecting me against our parents when we were in trouble in the past). He was always there for me in every situation. Still I am asking him for advise about future plans or university stuff and I am very proud of him and nothing can stop me from loving him!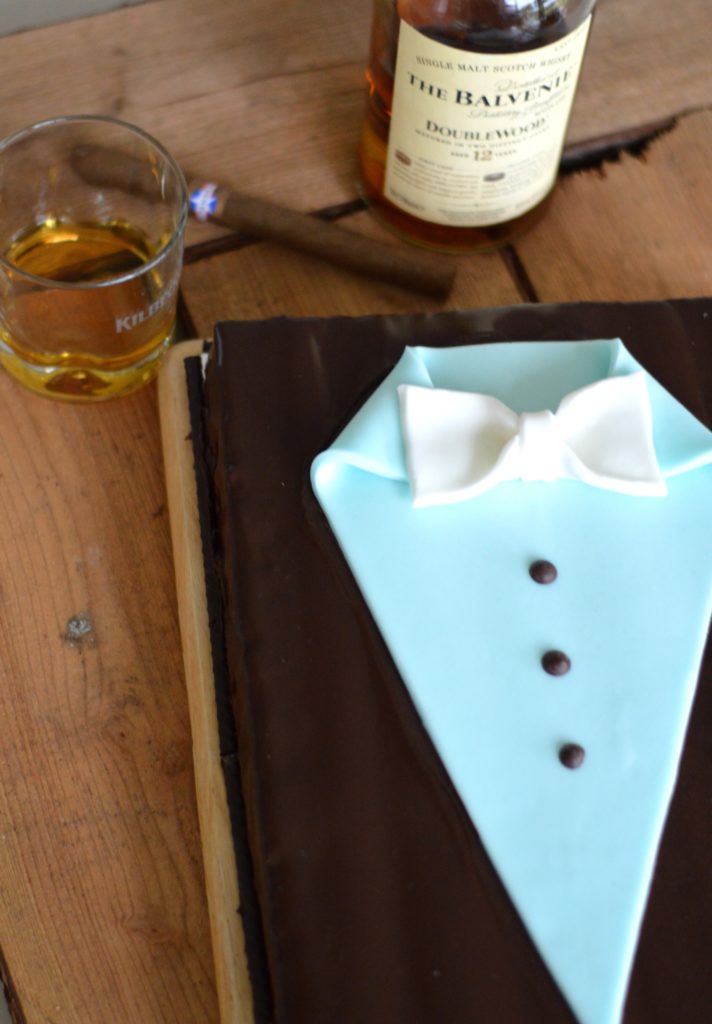 Furthermore, I don't know any bigger fan of whiskey than my big brother. He literally loves drinking whiskey. When it comes to birhtday presents he already owns everything that is related to whiskey. Including tons of books, whiskey glasses and he already went to many whiskey tasting! Therefore the main ingredient of his birthday cake had to be whiskey!
This Gentleman suit-inspired cake consists of a fluffy dark chocolate cake, refined with whiskey and covered with a dark chocolate fudge! The decoration is (of course edible), it' s colored fondant (you can buy already colored fondant or color it by yourself to create your own color!) and the buttons are chocolate chips!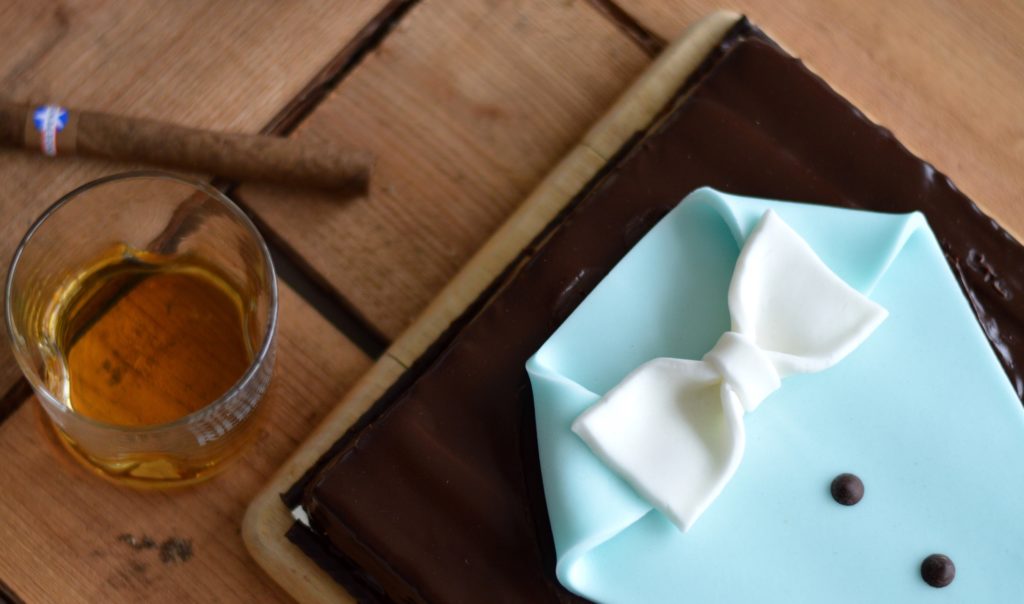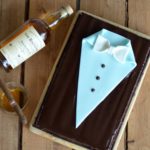 GENTLEMAN DARK CHOCOLATE WHISKEY CAKE
Total Time
2
hours
40
minutes
Ingredients
for the cake:
200

g

butter

room temperature

50

g

confectioner's sugar

8

eggs

260

g

sugar

200

g

good quality dark chocolate

200

g

flour

pinch of

salt
for the glazing:
8-10

tbsp.

singlemalt Whiskey

300

g

heavy cream

1

tbsp.

white sugar

250

g

dark chocolate

50

g

butter
fot the decoration:
100

g

white fondant

300

g

light blue fondant

3

tbsp.

dark chocolate chips or more
Instructions
In a bowl cream together the butter and confectioner's sugar. Separate the eggs and add the egg yolks to the mixture. Melt the chocolate and let it cool before adding it to the mix.

Beat egg whites until stiff; slowly sprinkle in the sugar until the egg whites are firm and shiny. Now sift the flour and add it slowly and carefully together with the egg whites to the egg yolk mix.

Preheat oven to 170 °C. Cover a baking pan with baking paper and grease the sides of the pan with butter. Fill in the dough and bake for 35 to 50 minutes (depends on your oven!).

Remove from oven and baking pan. Let it cool completely. Now, take a tablespoon and drizzle Whiskey all over the cake.

For the glazing: Cut dark chocolate into smaller chunks. Boil the heavy cream in a saucepan. Remove from heat and add the chocolate pieces. Wait 1-2 minutes until stiring with a wire whisk. Then add the butter and whisk until a smooth and shiny texture comes out.

Pour the glaze over the cake and cover it completely and try not to spread it so much because you want a smooth and shiny glazing! Wait until the chocolate is set (put in refrigator for 30 minutes). If you have glazing left, cover it a second time with the glazing! Then place the cake where you wanna present it.

For the decoration: Knead the light blue fondant until smooth. Roll out to 2-3mm thick. Cut a triangle nearly as long as the cake. Fold over the two upper corners. Place it on the center of the cake. Roll out the white fondant and cut a small rectangle. Now shape the bow by gathering it in the center. Cut a very small strip from rest of the white fondant to make the bowtie and wrap it around the bow. Place the bow on the light blue fondant. Place three (or more) chocoalte chips down the center of the cake to create the shirt buttons.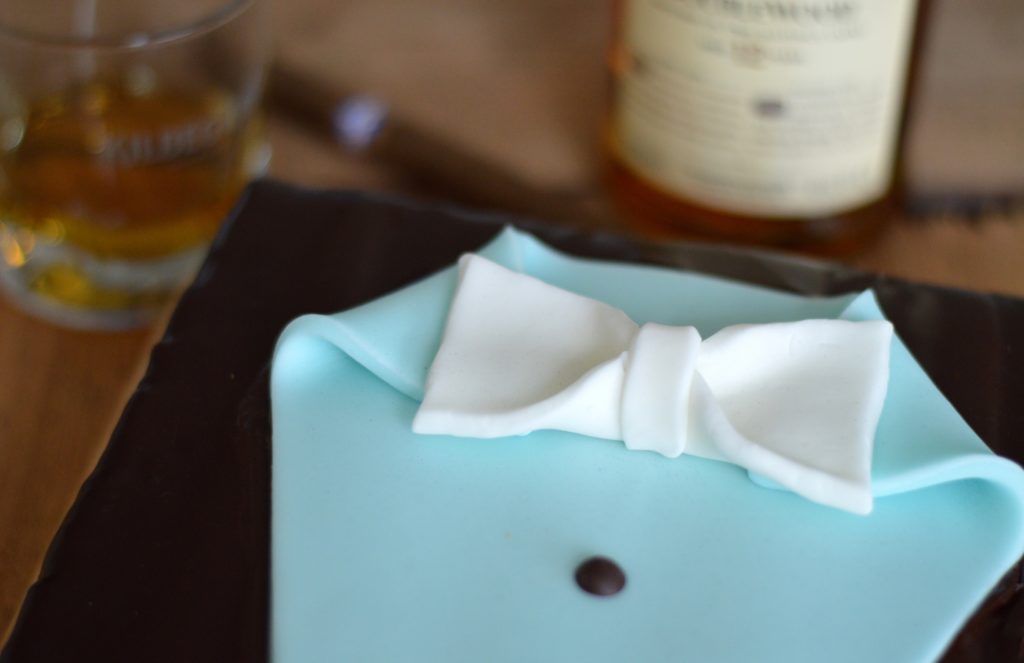 Have fun baking!
Lots of Love,
Caprice