*Anzeige; This blog post (Bellini cake) was created in cooperation with the Club of wine Online Shop
Since a couple of years my family is asking me to create the dessert for Christmas Eve. Every year the same tough question appears: to find a dessert which will be loved by everyone in my family. The last years we had many different things such as gingerbread trifle, Spekulatius (like an almond biscuit) mousse, Calvados apple crumble or this amazing orange praliné whiskey cake.
This year I would like to bake something especial because the whole family is united again. So when I was asked by the Club of wine Online Shop, to create a recipe together with Bellini, I was thrilled because I love thinking about new recipes and combinations. In the end of my creative thinking this Bellini cake came out, which has very good chances to win the competition for this years Christmas Eve dessert.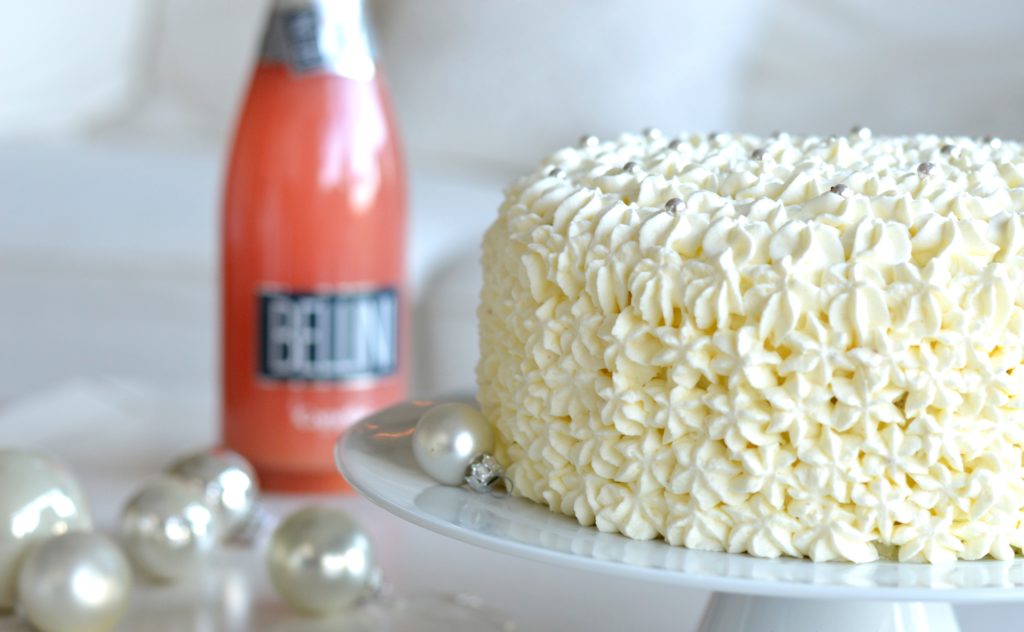 Bellini is an Italian sparkling wine that consists of about two-thirds of Prosecco, one-third of white peaches juice and a dash of wild raspberry. It is not too sweet, but nicely fruity. The Bellini tastes very good together with a fruity dessert or delicious pastries. For my recipe I combined the Bellini with marmelade to create a Bellini marmelade which can be find between the cake layers.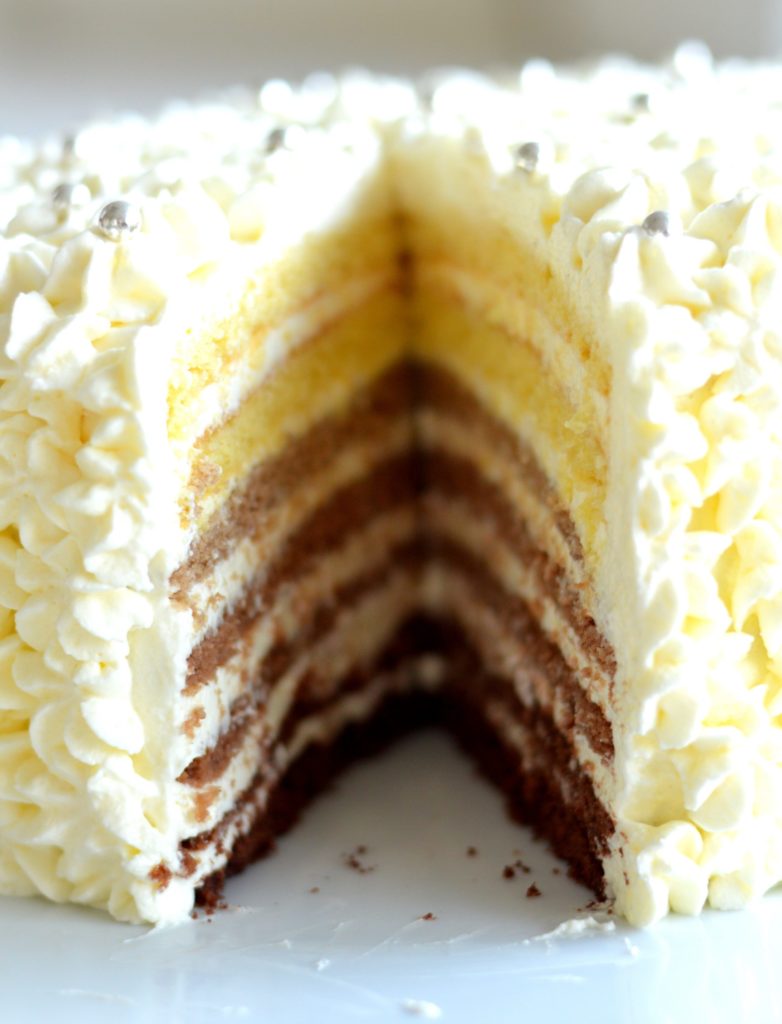 Some more words about this amazing cake: It is a layer cake with chocolate, cinnamon and vanilla layers. Between them is first a layer of Bellini marmelade and second a smooth mascaspone cream. Outside of the cake is a thick layer of heavy cream tuffs, decorated with silver decoration pearls.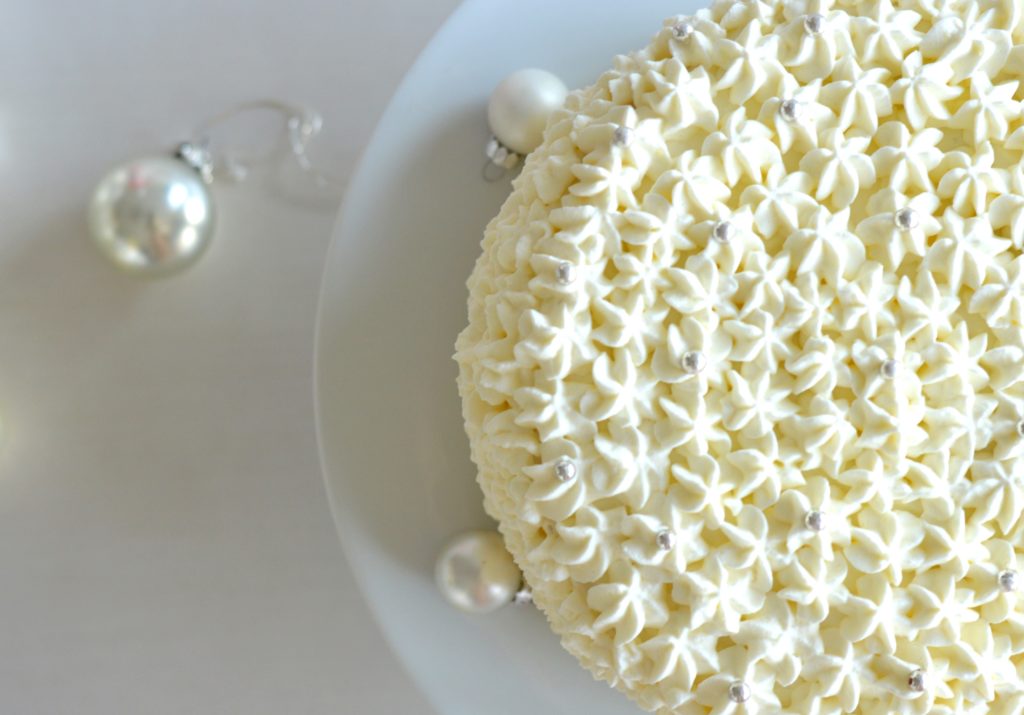 You can find the Bellini here. In general if you are looking for a last minute Christmas present you have a well-sorted selection at the Club of wine Online Shop.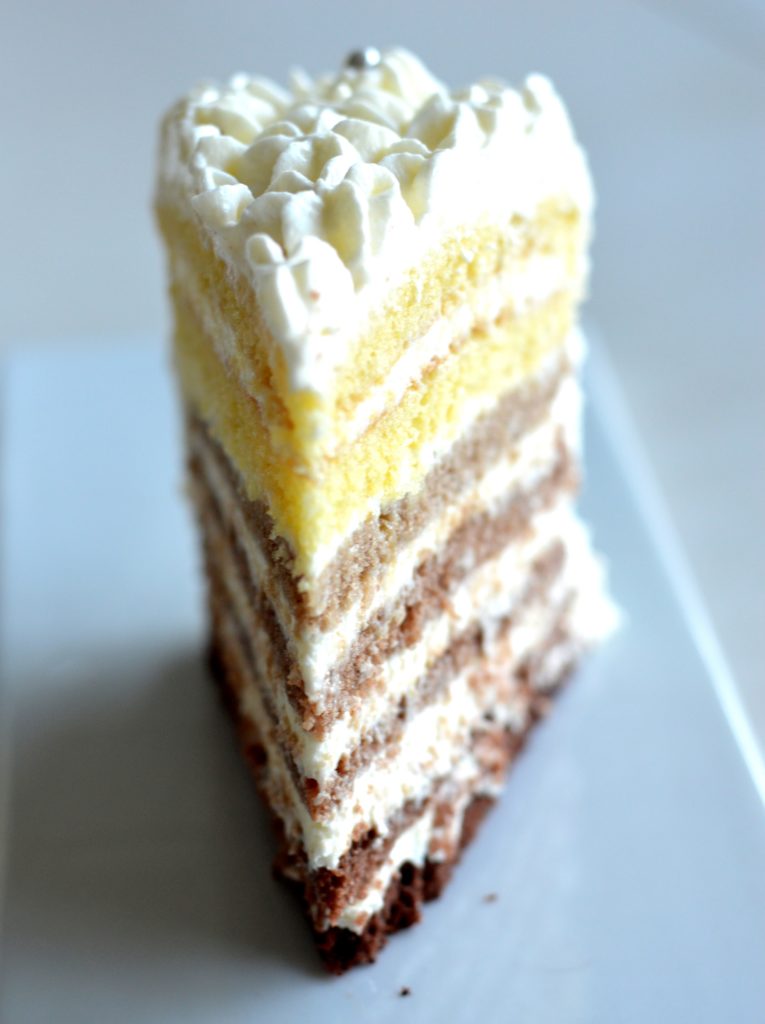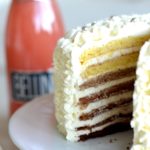 BELLINI CAKE
Cook Time
2
hours
20
minutes
Total Time
4
hours
20
minutes
Ingredients
for the biskuits:
375

g

butter

330

g

sugar

2

tbsp.

vanilla sugar

pinch of

salt

6

eggs

375

g

flour

2

tbsp.

baking powder

3

tbsp.

cacao powder

1-2

tbsp.

cinnamon
for the Bellini marmelade:
3-4

tbsp.

peach marmelade

4-6

tbsp.

Bellini (depends on texture of the marmelade)
for the filling:
500

g

mascarpone

250

g

heavy cream

100

g

yoghurt

5

tbsp.

white sugar

1

package

stabilizer for whipping cream
for the decoration:
500

g

heavy cream

2

packages

stabilizer for whipping cream

1

tbsp.

vanilla sugar

optional: decoration pearls
Instructions
For the biskuits: Layer baking pans with baking paper (if you don't have so many baking pans, don't worry, just bake the layers one after another!).

In a bowl cream together butter, sugar and vanilla sugar. Add the eggs one after another. Mix flour, salt and baking powder together and add to the sugar-butter-egg-mix.

Now divide the batter in seven portions. You can bake the first portion right away because it is the lightest one without any cacao or cinnamon in it. Take the second portion and add a pinch of cinnamon and cacao powder. Continue like this with the other portions. Just increase the amount of cinnamon and cacao powder by every layer. Pay attention to the color! The last portion should be the darkest one.

Preheat oven to 180°C. Bake the layers for 15-20 minutes (depends on your oven). After baking remove from oven and let all the layers cool completely.

Prepare Bellini-marmelade: Heat 3-4 tbsp. of peach marmelade and combine with 4-6 tbsp. of Bellini. This depends on the texture of the marmelade. It shouldn't be too fluid neither too firm because you still need to spread it on the layers.

Prepare filling: Beat heavy cream with 1 tbsp of sugar and 1 package of stabilizer for whipping cream. In another bowl combine mascarpone, yoghurt and the rest of the sugar. Now combine both to get one smooth cream for the filling. Put in the fridge.

After baking let the biskuits cool completely. Now start layering by taking the first cake bottom and pour with Bellini marmelade. Spread with the filling. Top with the next cake bottom. Repeat this with the other cakes bottoms.

For the decoration: In a bowl beat heavy cream with vanilla sugar and 2 packages of stabilizer for whipping cream. Fill into a piping bag and pipe little tuffs all over the cake. Optional: Decorate with silver decorations pearls.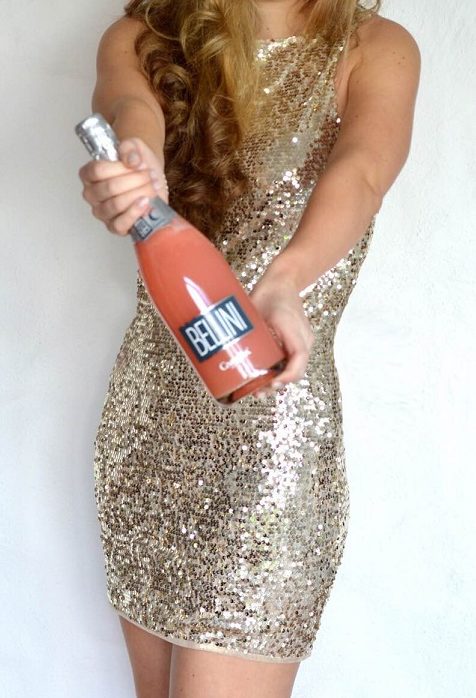 Cheers and a happy third advent!
xxx
Caprice