As all of you already know I am a very big fan of traveling to different places and countries. Exploring new cultures (and their food) and meeting new lovely people is always so exciting and a real addiction! In addition I love studying somewhere else than my home town as well because it is a great opportunity to get to know a new city in detail!
But I have to say that one of the best parts is always coming home!! Returning back home, back to my family and closest friends is such an amazing feeling – every single time! My home town is a mid-size city in lower saxony, called Braunschweig. It's the place where I spend most of life! Here I used to go to school, made my first driving experiences and baked my first cake together with my mum! Fair enough to dedicade my lovely town its own blog post, of course with a typical local specialty!!
Last weekend I spend the free days in Brauschweig and took these wonderful pictures where I tried to capture the beauty and charme of my city. Great for spontanous walking tours through different quartiers like the cute "Magni Viertel" or the charming old town with frame houses and cobblestone pavement. But the town's landmark is definitely the castle square. On one side you have an amazing view on the stoned lion named by Henry the lion and on the other side you can see the impressive cathedral of Braunschweig!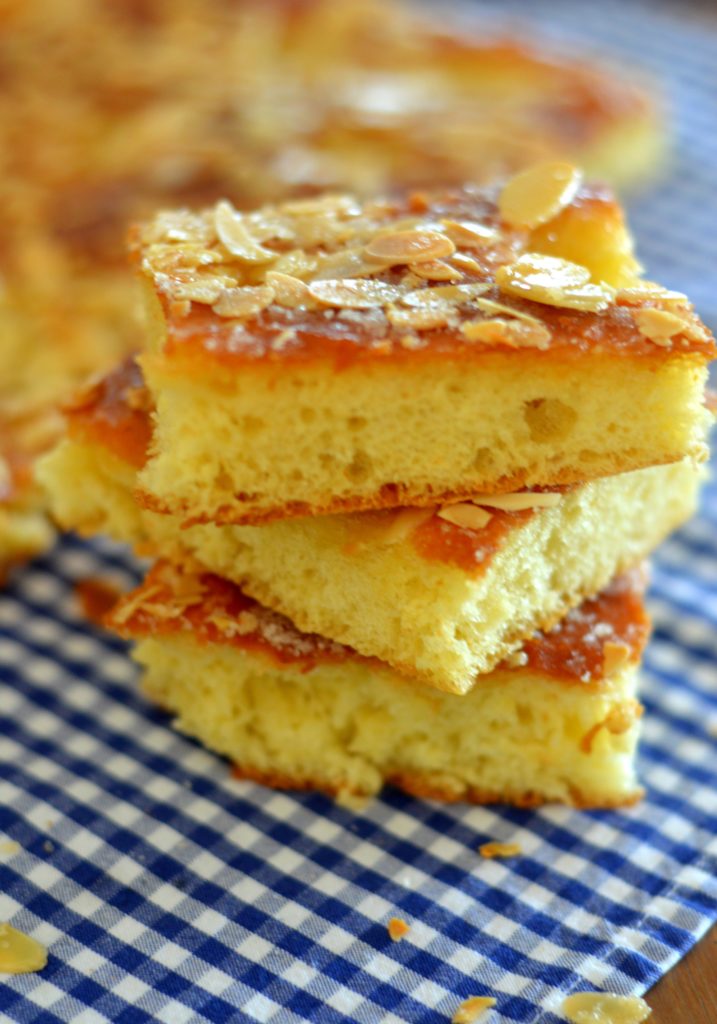 But now to the cake! This cake convinces with its simplicity! Because of the easy preparation it was usually baked for all kind of occasions like weddings, birthdays, engagements, funerals and anniversaries in Braunschweig. Thanks to the fluffy texture and the rich buttery flavor this cake is an everybody's darling! You can't do anything wrong by bringing this cake to your next party, in fact you do everything right because everyone will love it, trust me! When I baked this cake I planned to freeze half of it for other days (thats a great thing about this cake! You can freeze it and defrost it another day by baking it in your oven for 10 minutes 100°C). But when I returned to the kitchen my brother has already eaten half of the cake, best proof ever that this cake is a real all-time favorite!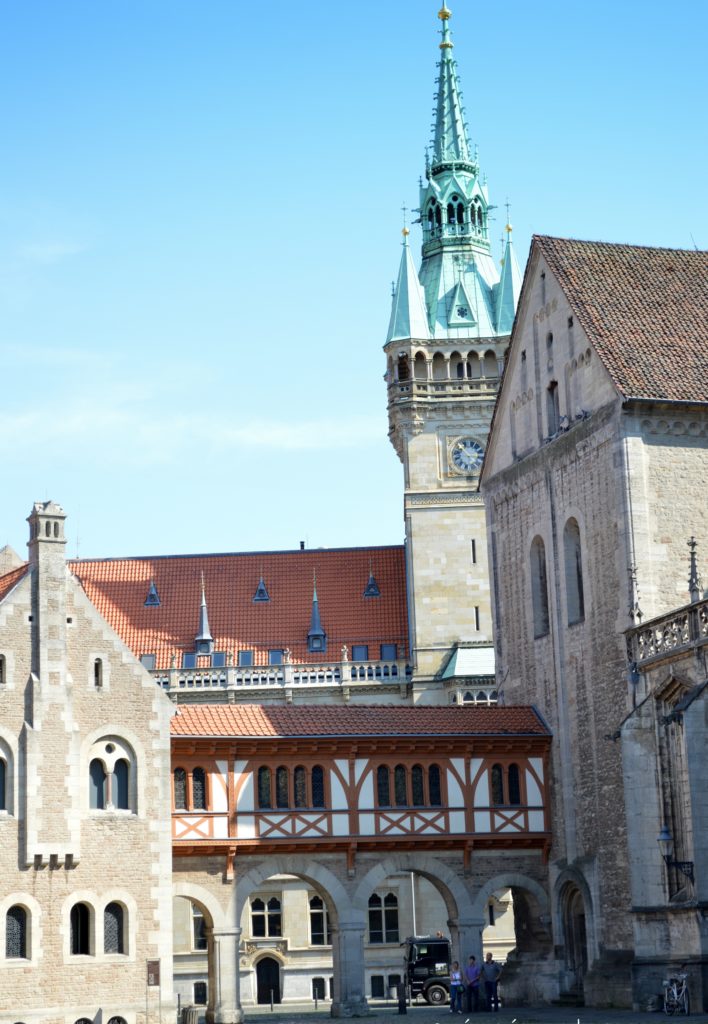 And by the way, it's best served right from the oven, when it's  still warm and you can smell the wonderful vanilla and buttery scent everywhere! Just pure perfection..
.. No wonder that this cake is from Braunschweig 🙂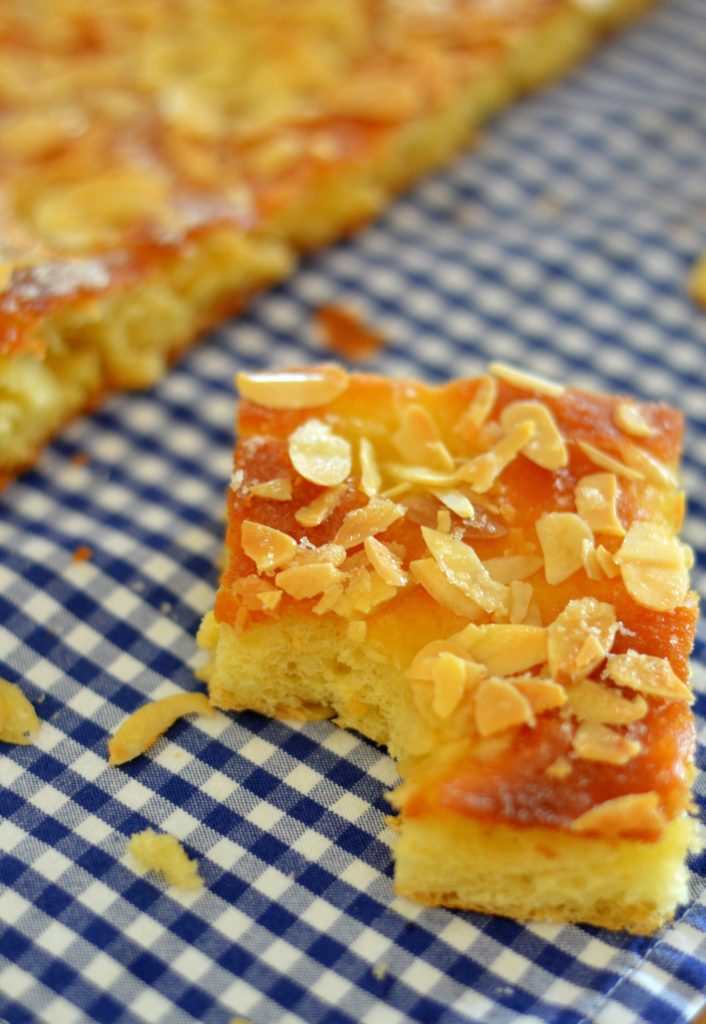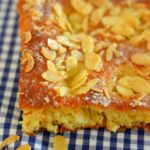 BRAUNSCHWEIGER ZUCKERKUCHEN
Prep Time
1
hour
50
minutes
Total Time
2
hours
10
minutes
Ingredients
For the cake:
1/8

l

milk

30

g

fresh yeast

pinch of

salt

70

g

sugar

80

g

butter

400

g

flour

4

tbsp.

vanilla sugar

2

eggs
For the topping:
125

g

butter

75

g

almonds

100

g

white sugar
Instructions
In a small bowl crumble yeast and mix with 5 tbsp. of the warm milk and one tbsp. of the white sugar. Let the yeast work for 5-10 minutes.

in another bowl whisk together flour, vanilla sugar, the rest oft the sugar and salt. Then add the yeast mix, eggs, the rest of the milk and the butter. Knead until a smooth dough comes out. Now cover with a cotton dish towel and put it at a warm place and let the dough work again vor 60 minutes.

Preheat oven to 180°C and prepare a baking tray by oiling it completely.

Knead dough onto the prepared baking tray. For the topping cut the butter into 16 same sized cubes. Press butter cubes with same distant in dough. Sprinkle with sugar and almonds. Let it rise again for 20 minutes.

Bake for 20-25 minutes. Best served right from the oven!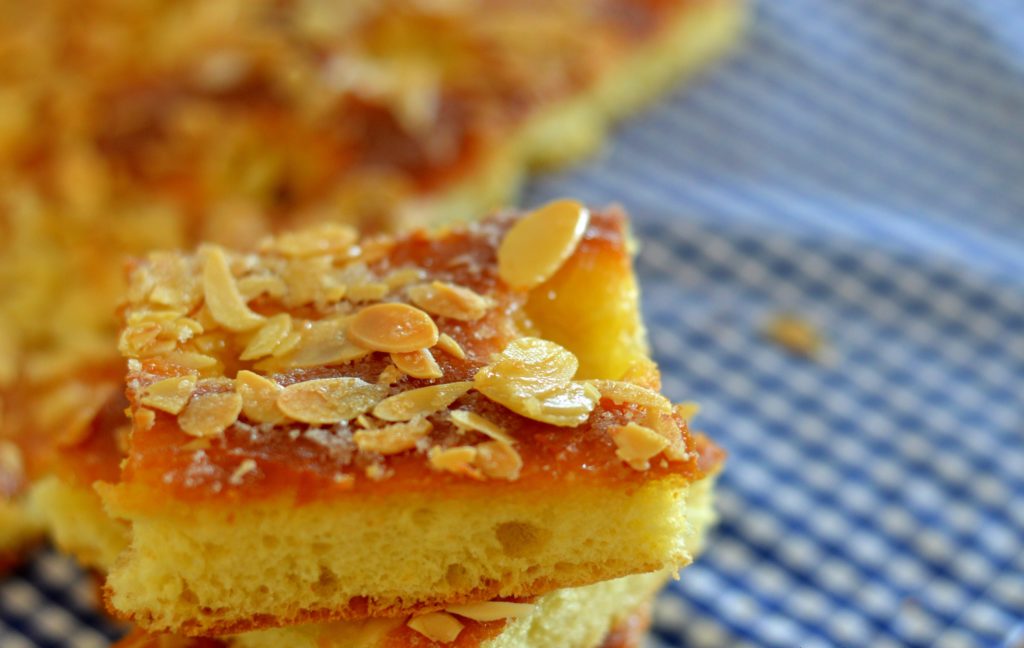 Have fun baking one of my favourite recipes!
xxx
Caprice