Slowly the weather is changing, it's colder outside and it gets darker earlier, its almost autuum again! As much as I love the seasons changing, it's always sad to say goodbye to warm summer nights. To do this the right way, we made a kind of last bbq of the season last weekend. Well known, I am a big fan of the USA of the country  and especially the food. So why not celebrating the new season with an all time favorite: Burger with homemade burger buns!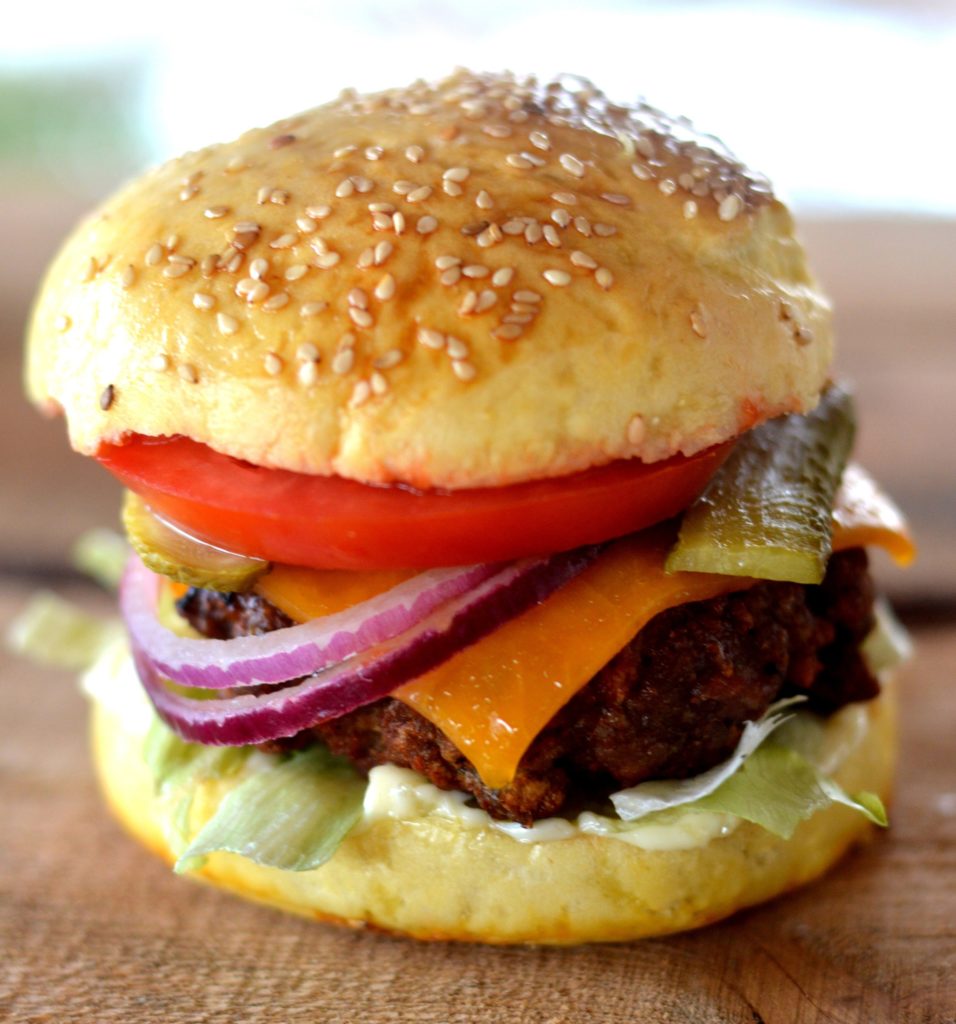 I have to admit that I am not a huge representative of fast food in general, but actually you can't really say that this burger is fast food. Better say it's a fluffy baked burger bun with sesame, served with fresh and homemade ingredients such as homemade mayonaise and ketchup and nicely spiced meat balls, maybe we should call it my personal "slow food"..?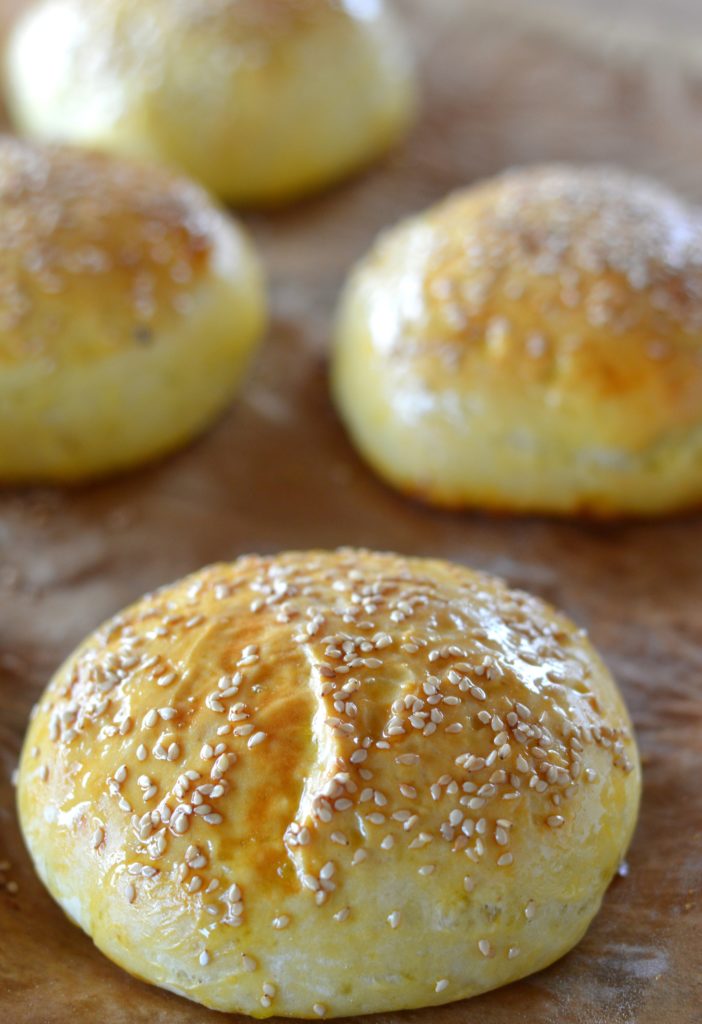 And by the way  this is my third not sweet recipe (maybe you remeber my onion foccacia or Oktoberfest pretzels). Of course my favorites are still sweet things, but this burger was just SO delicious that I do not wanted to hold it back from you!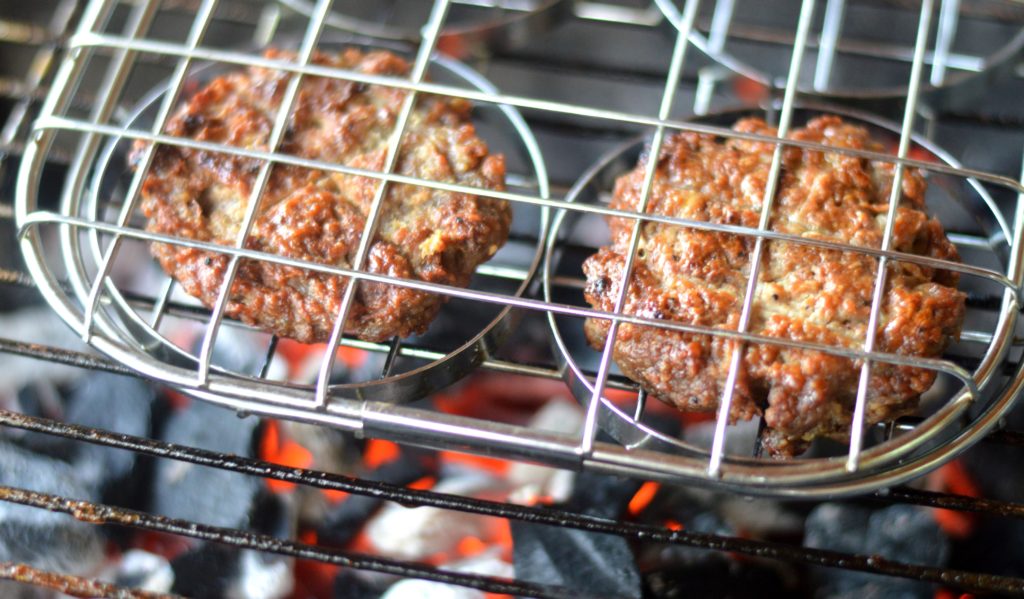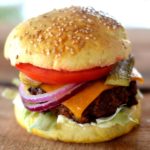 HOMEMADE BURGERS
Total Time
3
hours
20
minutes
Ingredients
for the burger buns:
400

g

flour

8

g

fresh yeast

250

ml

warm water

8

g

salt

0,5

tbsp.

sugar

1

egg yolk

2 -3

tbsp.

sesame seeds
for the meat:
800-900

g

ground beef/pork/turkey

pinch of

pepper, bell pepper spice and oregano

pinch of

salt

1

onion

1

tbsp.

medium spice mustard

1

tbsp.

ketchup
for the ketchup:
500

g

very ripe tomatoes

1

onion

salt and pepper

100

ml

vinegar

100

g

white sugar
for the mayonnaise:
1

egg yolk

1

tbsp.

mustard

200

ml

vegetable oil

pinch of

salt and pepper

1

tbsp.

vinegar
for the rest of the burger:
150

g

iceberg lettuce

3

tomatoes

1-2

red onions

pinch of

salt and pepper

3-4

pickled cucumbers

3-4

tbsp.

homemade ketchup

3-4

tbsp.

mayonnaise

6

slices

cheddar cheese
Instructions
for the burger buns: In a small bowl crumble the fresh yeast and mix with sugar and 4 tbsp. of the warm water, mix until yeast has dissolved completely. In another bowl whisk together flour and salt. Now add the rest of the water and the yeast mixture. Knead until a nice dough comes out. Let it rise for 45 minutes, until it's doubled it's size. Preheat oven to 210°C, prepare a baking tray by putting baking paper on it. Divide dough into 6 same size dough-balls. Brush with the egg yolk and sprinkle sesame seeds all over. Put in the oven for 15-20 minutes. Secret tip: put a small bowl with water on the tray with the burgers, this will prevent them from drying-out!

for the meat balls: Mix meat with spices. Add cutted onion, mustard and ketschup. Shape your meat balls and put them onto your grill until their done.

for the ketchup: Wash and remove seed from tomatoes, cut into small pieces. Put in a pan and add all other ingredients. On small heat let it cook vor 1,5-2 hours. Stir sometimes. Last spread through a sieve.

for the mayonnaise: In a bowl mix together the egg yolk and mustard. While mixing and stiring the whole time with a wire whisk add the oil. Add salt and pepper gustatory. Last mix in the vinegar.

Prepare the whole burger: Wash and cut the iceberg lettuce, tomatoes, onion and pickled cucumbers. Cut burger buns. Take the bottom and spread with mayonnaise and place the lettuce on top now add the meat ball with cheddar. Place tomatoes and onions on top. Take the top of the bun spread with ketchup. Put all together and enjoy!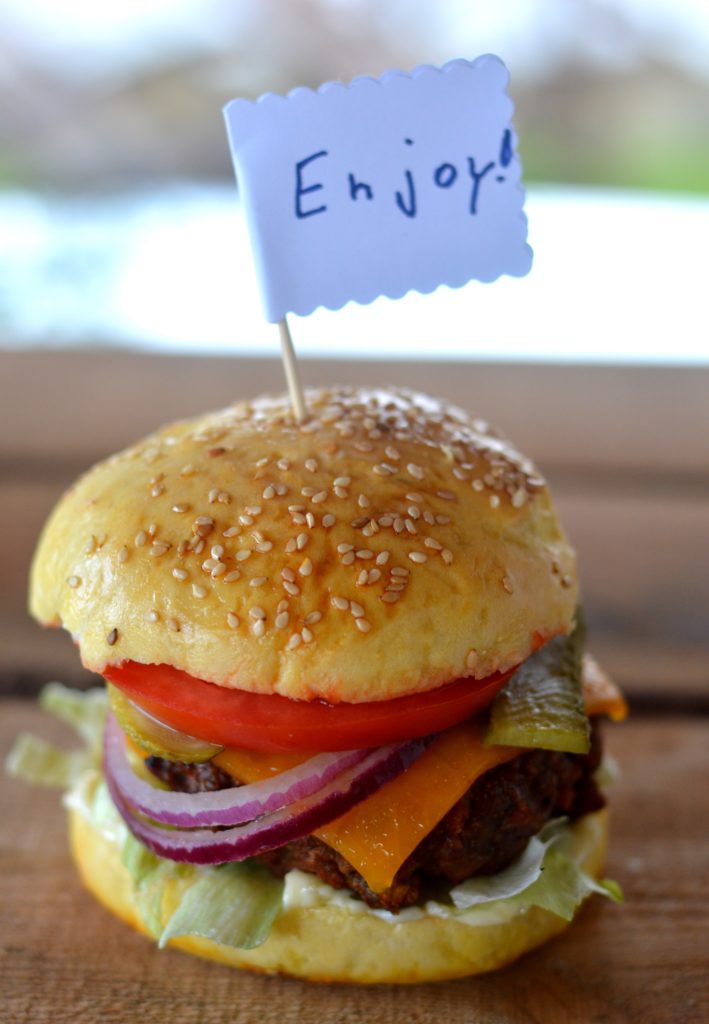 Enjoy!
Lots of Love,
Caprice