A few weeks ago I was thinking about the upcoming weekends. Inspired by an article about 'the best city weekends' I read a couple of days before, I decided spontanously to visit one of the top 30 cities: Edinburgh! It was my first time in Scotland! All I heard about Scotland was bagpipes and kilts, red haired people, a heavy Scottish accent and food like 'haggy'.(= pudding made of sheep's heart, liver and lungs, onions, oatmeal, suet and spices). Time to check these assumptions!
When we arrived at the airport, we were positively surprised how clearly arranged and well-organized eyerything was. Within 30 minutes we passed the beautiful landscape (like a sneek peek of the beautiful Highlands!) and reached the Old Town city center.
Now we were ready to discover the city. The big advantage is that you can reach everything within walking distance, which is for me the best way to get to know the city! The disadvantage is the weather, very rainy and VERY windy (I do not understate!).
Our hotel was located in the Old Town surrounded by so many great restaurants and cafés. In general the whole city offers many possibilities to take a rest from sightseeing. I would like to share with you our highlights of the trip.
Calton Hill: Definitely worth the very windy and rainy walk up! In the 19th century it was planned to build a Scottish Acropolis on top of the hill to manifest the reputation as "The Athens of the North! But after 3 years of construction they had to stop because of lack of money.
Nowadays, you can admire disconnected but magnificent pieces all over the Hill . From here you have a brilliant panoramic view. When you spin around you can see the harbor, the beautiful Old and New Town and in the background you can adumbrate already some planted hills. Located directly on the opposite point you can see the Edinburgh Castle.
Victoria Street and Grassmarket: This district combines a great shopping experience with stunning architecture. Bascially you can find any store in this area like wine and other spirits (for whiskey visit the 'Bow Bar'), jewelry, antiques, secondhand shops and many galleries (do not miss the Red door Gallery!). Most of the buildings are built in a british style but individualized by many different colors which embellished the cityscape so much! Below you can see the beautiful Victoria Street.
Royal Mile: This "royal street" is located in the Old Town and subdivided into Lawnmarket, Castlehill, High Street, Canongate and Abbey Strand. Here you can admire many charming houses and the first skyscraper of the world (at that time 15 floors!). In this area you can find many restaurants, souvenir shops and small 'closes' with backyards (= alley).
New Town: Whereas in the past the Old Town was home for over 80 000 people at the same time, it was small, narrow and dirty. Nowadays the Old Town is very charming, but the completely opposite to the New Town. Everything is bigger and more elegant in this area. Many glorious Gregorian streets, boulevards are framing townhouses and private gardens. The shopping street is called Princes Street, where you will find every famous shop. At one end is the 5-star Balmoral Hotel situated and at the other end the St. John's church.
National Galleries of Scotland: Absolutely worth a visit! The National Galleries are divided into the National Gallery, Portrait Gallery and the Gallery of Modern Art. There are shuttles between the different galleries and best about it: The entry is free! My favourite room was defintely the one with paintings from renaissance and post impressionism such as Edgar Degas, Berthe Morisot and Sir William Quiller Orchardson.
Time to talk about the food. Like I said before haggy is indeed a sort of delicacy and something you can eat nearly everywhere. To get to the point we haven't tried it, we stuck to fish and chips and more important the sweet things! To be honest I never thought about Scottish pastry! All I had in mind was something like shortbread or scones (I know its british!).
We were enthusiastic when we discovered that Scotland is not only the home of whiskey, but also of FUDGE, which is by far one of the best culinary discoveries ever! In addition you can have cupcakes, blondies and brownies and slices everywhere. I haven't heard about slices before, but basically they are made of chocolate, cookies, dried fruits and any great ingredients such as Oreos, Malteser or Nutella. To die for! Therefore, when I thought about this week's recipes the choice wasn't that hard…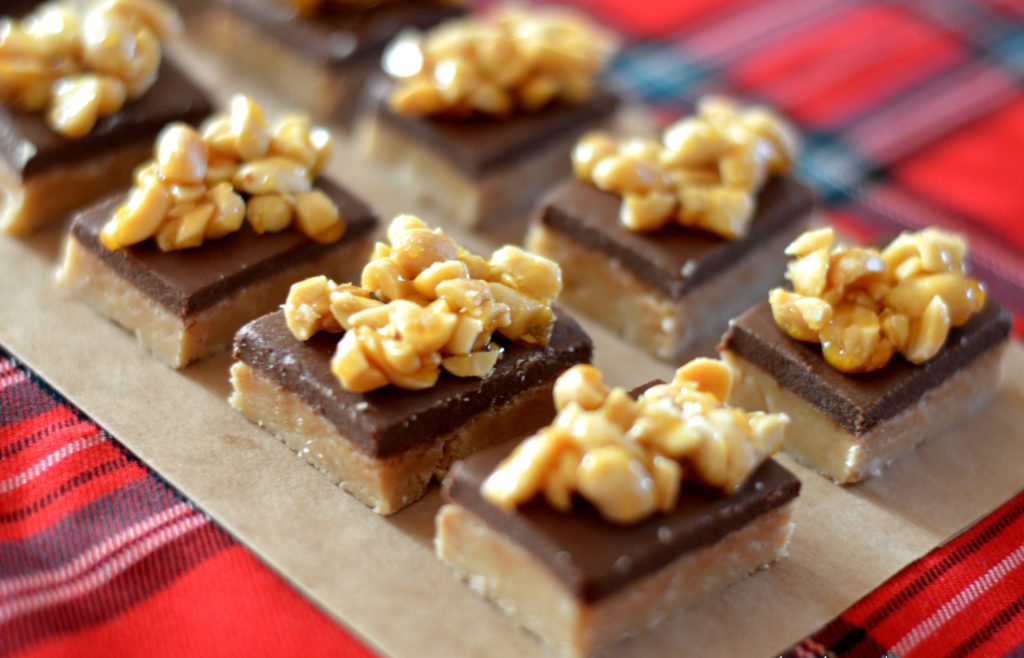 As many of you know I am a huge peanut butter fan (you can find PB always in my fridge!). For this reason it was overdue to create a peanut butter explosion for you. And finally here it is: Tenderly melting peanut butter fudge with a creamy layer of dark and milk chocolate and peanut butter and topped with salted caramelized peanuts. No more words needed. ENJOY.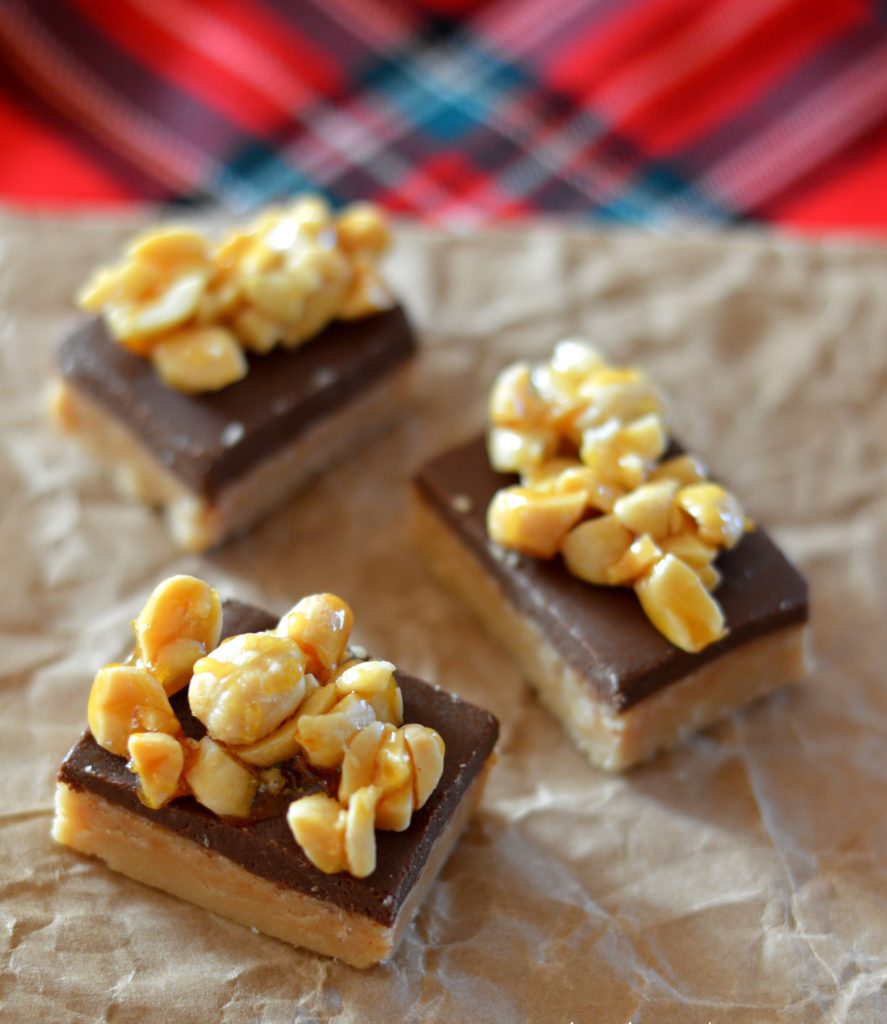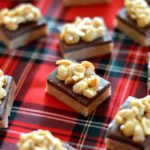 PEANUT BUTTER FUDGE TOPPED WITH CARAMELIZED SALTED PEANUTS
Ingredients
For the fudge:
120

g

butter

120

ml

milk

450

g

brown sugar

220

g

peanut butter (chunky or creamy)

300

g

confectioner's sugar

1

tbsp.

vanilla extract
For the peanut butter chocolate layer:
60

g

creamy peanut butter

150

g

milk chocolate

70

g

dark chocolate
For the topping:
100

g

roasted salted peanuts

100

g

white sugar
Instructions
Prepare a baking pan (20cm x 20cm) by layering with plastic wrap.

For the Fudge: At medium heat melt butter in a saucepan, then add brown sugar and milk and mix until combined. Then bring the mixture to boil without stirring it anymore, about 2 to 3 minutes.

Remove saucepan from heat and add the peanut butter. Add the hot mixture and mix until fully incorporated. In another bowl combine confectioner's sugar and vanilla extract until a smooth caramel comes out.

Pour into the prepared baking pan and let it cool for 5 to 10 minutes. Then put in the fridge for another 30 minutes.

For the peanut butter chocolate layer: Over a waterbath melt both of the chocolates together with the peanut butter. When completely melted pour over the peanut butter fudge.

For the topping: Prepare a tray by layering it with baking paper. Cut peanuts into smaller chunks. In a saucepan caramelize white sugar until completely dissolved, when it turns light brown deglaze with some water (about 40ml). Add the peanuts and stir until all peanuts are covered with caramel. Spread on the prepared baking paper. Let it cool.

When topping is cooled completely break/cut into smaller chunks. Spread over the chocolate layer and cut fudge into smaller pieces.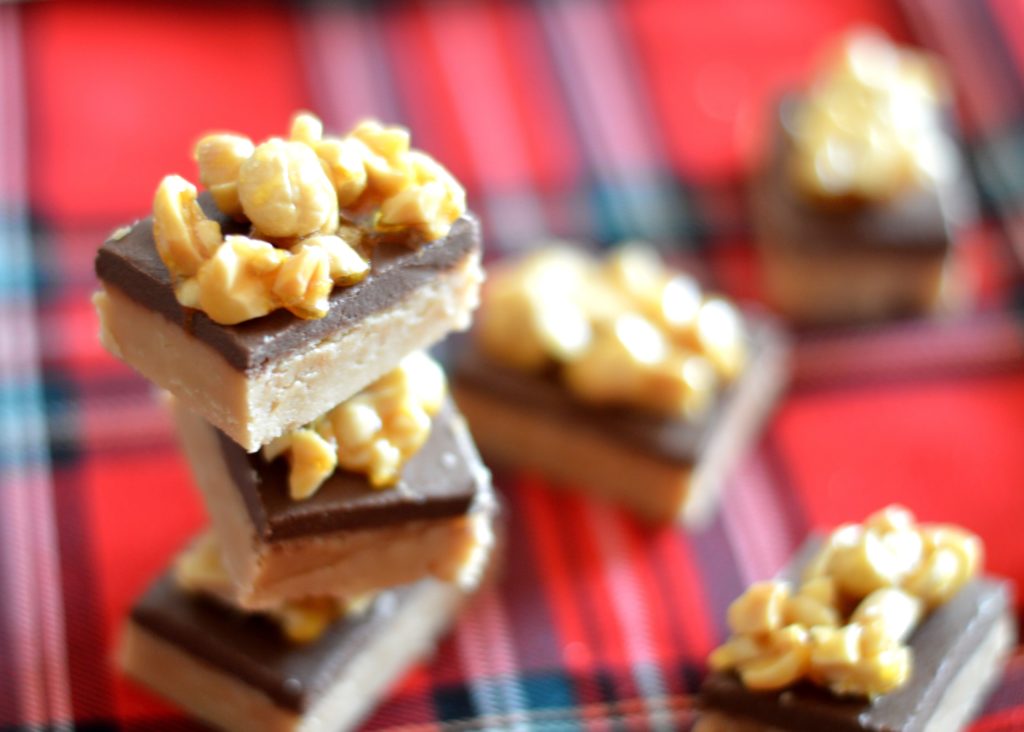 Have a great day,
xxx
Caprice