I couldn't resist making another breakfast idea for you with this chocolate croissants. As much as I love to make and eat homemade cornflakes, oatmeal or porridge, hot scrambled eggs with bacon and toast, crunchy granola, fresh fruit, creamy yoghurt, slighty moist and rich banana bread, sweet buns with marmelade or honey, fresh whole-grain bread with a lot of cheese, fluffy pancakes with maple syrup, fruity smoothies, crispy waffles with fruit and delicious french toast… (I could continue like this forever..) But today was time for an extraordinary breakfast: Mini chocolate croissants.
And if I say extraordinary I mean one of the most elaborate and ambitious recipes: Chocolate croissant ! To make croissants you need not only a lot of patience and sensitiveness, you also need to stick strict to the recipe and cooling times. Therefore I only make chocolate crossaints for very special occasions and people I really love (when you read and try the recipe you will understand what I mean)!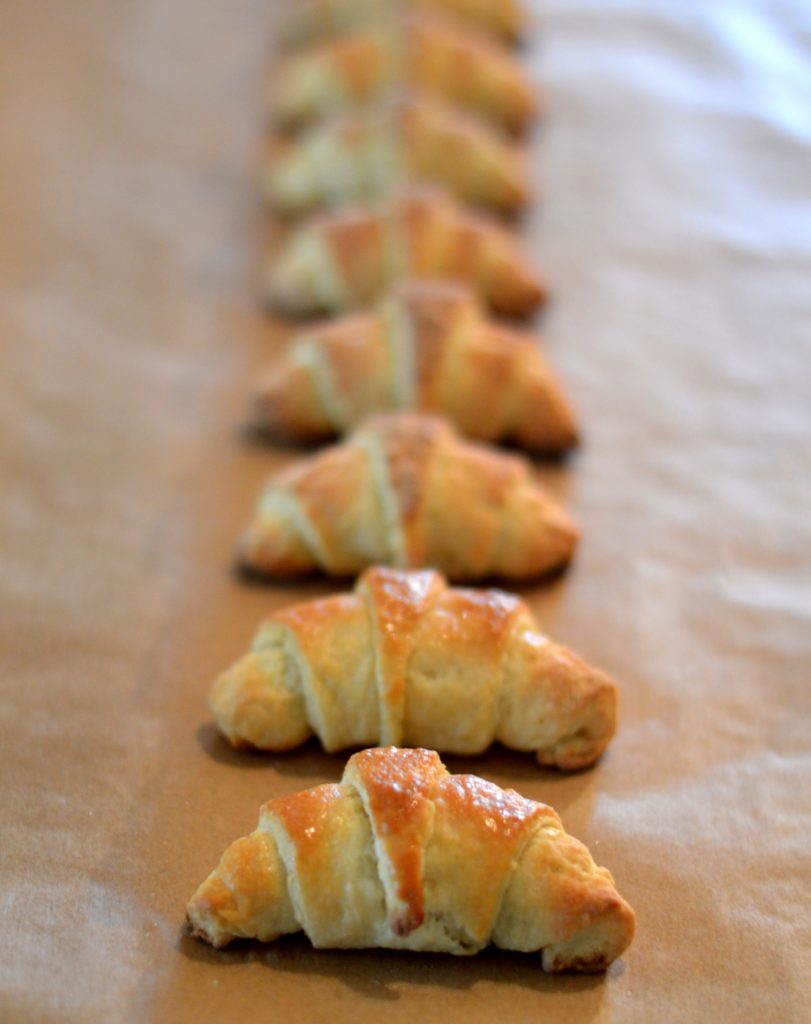 But the effort is absolutely worth it! Homemade chocolate croissants (with your favorite chocolate inside) are light and flaky but also rich and buttery in taste. Remember, breakfast is the most important meal of the day! Some advise before making these sweeties: Be patient, plan enough time to make these, be prepared and pay attention to the temperature.
By the way, also amazing with white or dark chocolate!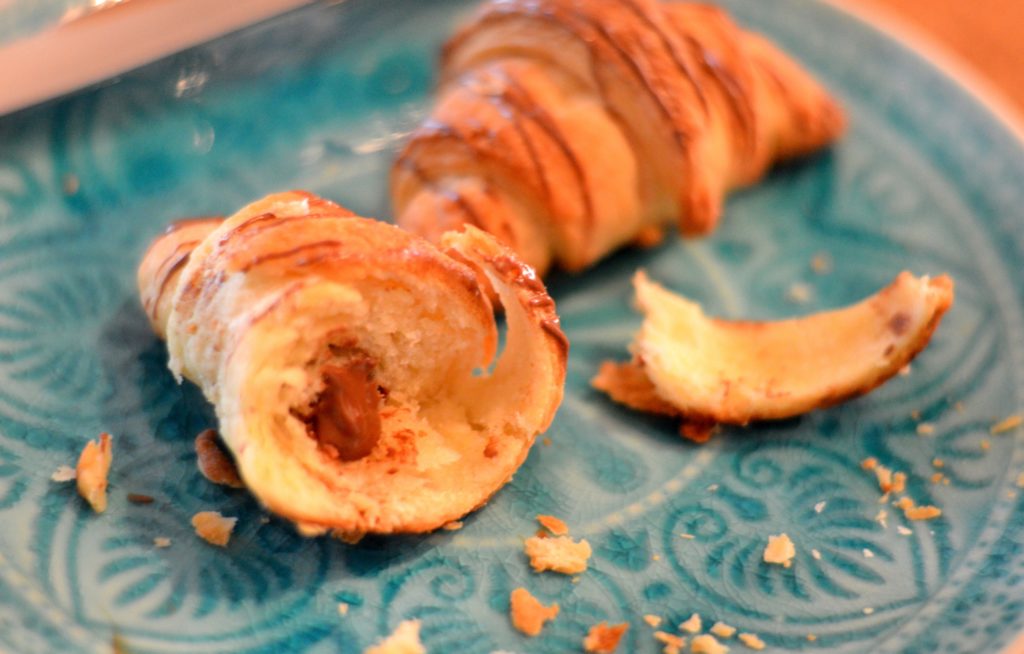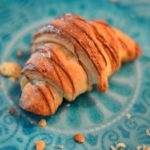 MINI CHOCOLATE CROISSANTS
Total Time
3
hours
20
minutes
Ingredients
For the yeast dough:
25

g

active yeast

30

g

butter

250

g

flour

150

ml

milk

50

g

sugar

salt
For the chocolate filling:
80-100

g

of your favorite chocolate

50

g

chocolate for decoration

1

egg yolk

3-4

tbsp.

heavy cream
Instructions
Prepare the butter plate. Mix 150 g butter and 25g flour. Then take a plastic wrap and put the mixed butter and flour between one layer of plastic wrap. With a rolling pin roll the dough into a 20 x 12 cm plate. Leave in the wrapping and put in the fridge for 30 minutes.

For the yeast dough warm up the milk and solve the active yeast inside the milk. In another bowl mix flour, sugar, melted butter and the salt. Slowly add the yeast-milk mix and knead together until dough is smooth. Wrap in and put it in the fridge for 30 minutes.

Now comes the tricky part! Take the yeast dough out of the fridge and roll it into a 40 x 25 cm rectangle. Take the butter plate and place it right in the middle of the yeast dough (this should be easy because of the plastic wrap). Remove wrapping. Then fold the yeast dough around the butter plate until it's completely covered with it (just fold it lengthwise first and crosswise afterwards). Take your rolling pin again and carefully roll out the dough again until it's the same size gain (40 x 25 cm). Fold it again like before. Put in the fridge for 30 minutes. After 30 minutes repeat the rolling and folding part again. Then put the dough into the fridge for 1 hour. Roll out again into a long rectangular (approximately about 80 cm long and 15 cm wide). Cut into equilateral triangles.

For the chocolate filling. Take your favorite chocolate and cut into smaller chunks. Take a triangle and roll it out to enlarge slightly. Now place the chocolate at the shortest end and roll towards the tip. The dough should overlap about 2-3 times with the tip sticking out from underneath. If you want you can shape the ends of the croissant inward, forming a the typical crescent shape.

Preheat oven to 210°C. Prepare baking sheets with baking paper. Place the croissants on the sheets. In a small bowl, whisk together egg yolk and heavy cream, and lightly brush over the tops of your croissants.

Depending on your oven and the size bake them for about 15-20 minutes. After baking remove from oven and let them cool for 10-15 minutes on the baking sheet before remove completely to a wire rack. For decoration melt 50 g of chocolate and sprinkle over croissants.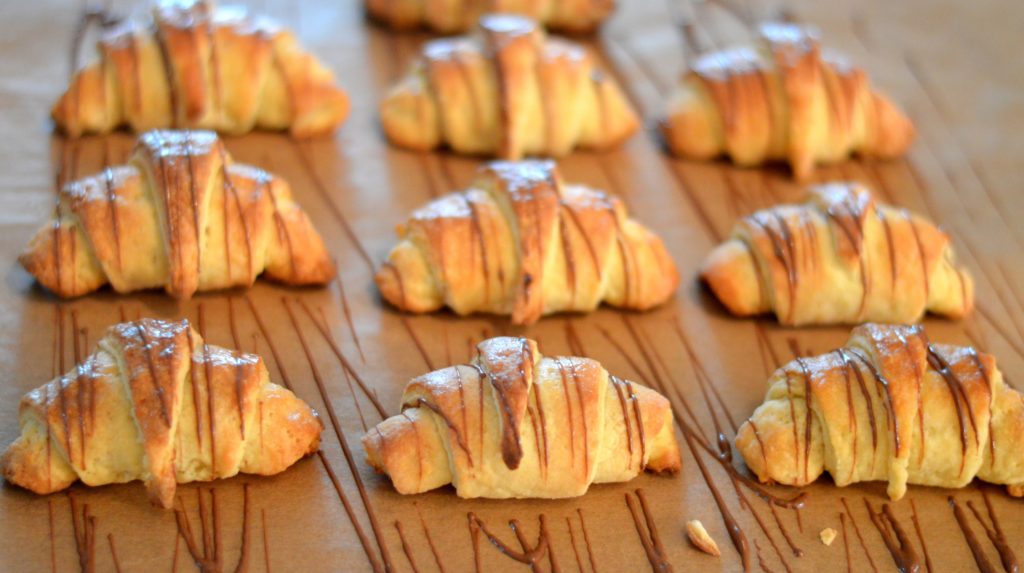 Have fun baking!
Lots of Love