Happy Birthday! Two birthdays this week, time to celebrate and have some cake, better said: Volkswagen birthday cake!
First of all my blog is now existing for 1 year. On the 27th of April last year I started this adventure and now I am looking forward to another great year with you guys! Thanks for your comments, positive feedback and support! There will be many delicious recipes, new adventures and some changes this year, so stay tuned!!
The second birthday we celebrated yesterday was my dad's birthday! There were many reasons why I decided to bake this cake with the famous Volkswagen logo for him. Not only because my dad is really into cars and loves everything which is connected to cars and technology. But more important is the reason that I wanted to say thank you to my dad for something which happened last week with my beloved Volkswagen car!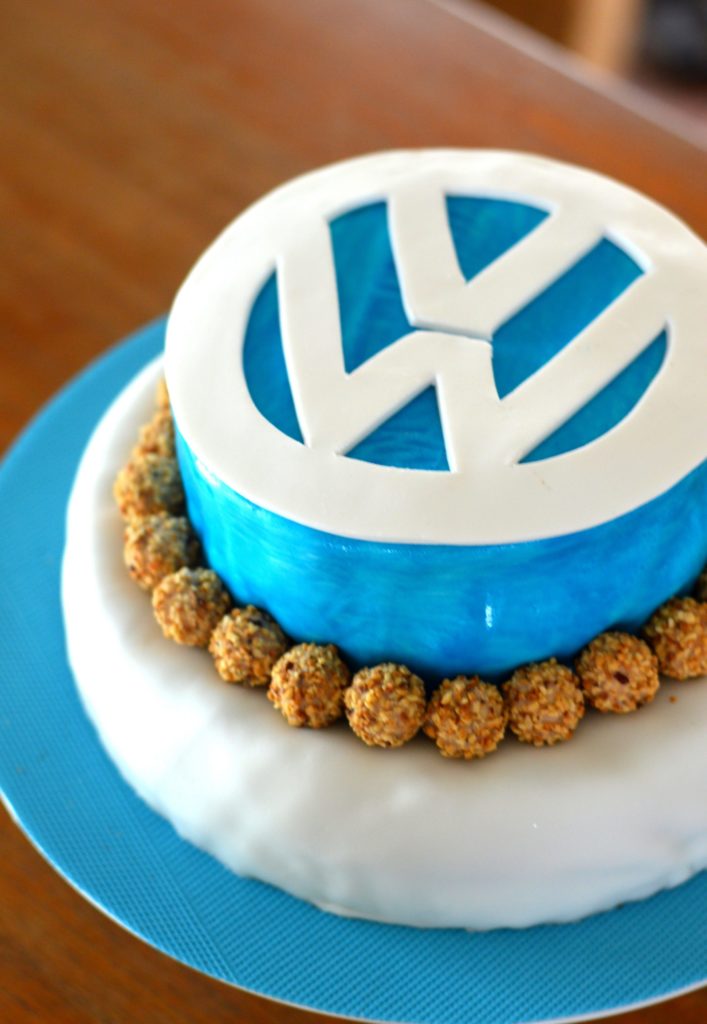 I was on my way home with my car when I suddenly heard a weird sound and my car started to slow down on the highway. It was about 70 kilometers before I reached my destination and I wasn't really able to navigate the car anymore. I immediately had to stop very carefully at the breakdown lane on the highway, put on my reflective vest and placed the breakdown triangle behind my car.
Then I saw the reason for the weird sound, my tire was completely broken!! I was really shocked because something like this never happened to me and I was driving on my own. In addition it was kind of scary standing besides the highway and all other cars and trucks were driving past me with high speed. Now it was time to call my dad because I was totally helpless! He managed to get there although he was at work during this time and changed my tire! I really didn't no what I would do without him, my hero of the day and my life! Thank you daddy for always being there for me!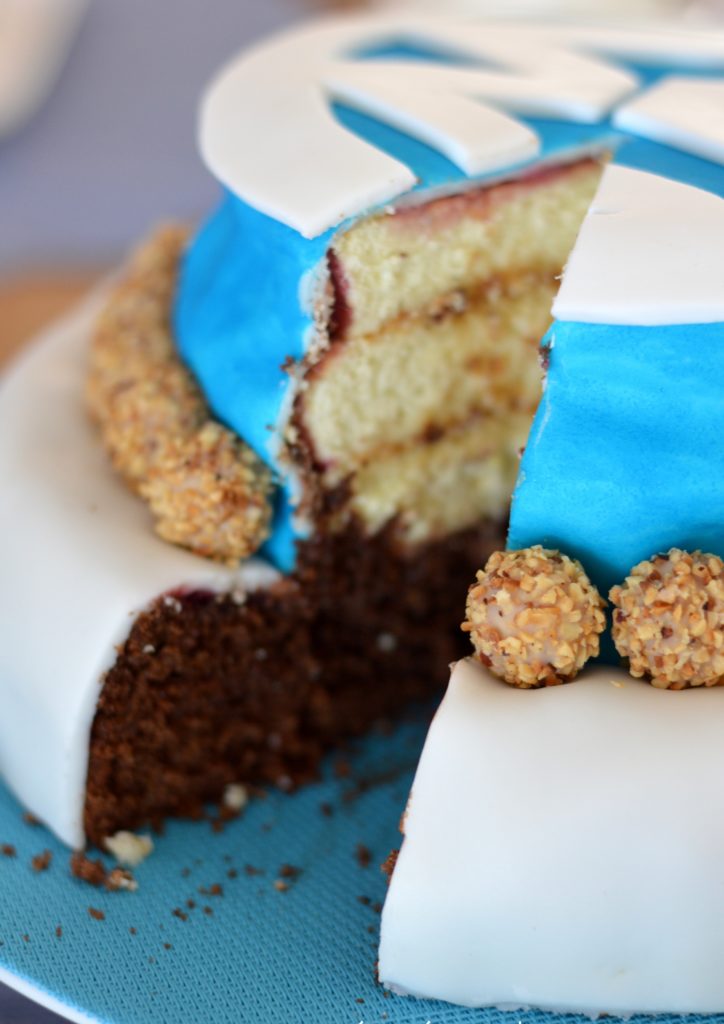 Now some facts about the delicious cake. Actually it was my first time working with fondant and first I was really scared of using it, but it is not that difficult! You can buy fondant completely ready to roll out or even in circular shape and already colored. The lower cake is a chocolate biskuit with a chocolate nut filling and the upper cake is an almond vanilla biskuit with a filling of dulce de leche (heavenly sweet caramel cream)! Both cakes are first covered with a thin layer of marmelade (for the fruity part) and then covered with the fondant!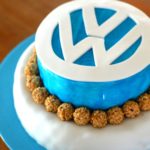 VOLKSWAGEN BIRTHDAY CAKE
Cook Time
1
hour
30
minutes
Total Time
2
hours
20
minutes
Ingredients
For the chocolate biskuit:
125

g

dark chocolate

6

eggs

125

g

butter

40

g

confectioners' sugar

pinch of

salt

175

g

white sugar

125

g

flour

2

tbsp.

baking powder
For the almond biskuit:
6

eggs

100

g

white sugar

70

g

flour

60

g

grounded almonds

1

tbsp.

vanilla extract
For the filling:
200

g

chocolate nut spread (e.g Nutella)

150

g

dulce de leche (caramel cream)
For the decoration:
1000

g

white fondant

2-3

tbsp.

blue food coloring

150

g

marmelade or jam

25

chocolate pralines (e.g Giotto)
Instructions
For the chocolate biskuit: Take a normal baking pan and line up with baking paper. Preheat oven to 180°C. Melt the dark chocolate and let it cool. Separate eggs and beat the egg whites until stiff while slowly adding the white sugar. In another bowl cream together butter, salt and confectioner's sugar. Slowly add the egg yorks one after another. Add the melted chocolate. Now add the sifted flour and baking powder together with the egg whites to the mixture. Pour into the baking pan and bake for 40 minutes. Then let it cool completely before cut into two halves in the middle.

For the almond biskuits you have to bake three biskuits one after another: Prepare a small baking pan with baking paper (do not oil the pans!). Preheat oven to 180°C. First separate eggs and beat the egg whites until stiff while adding the white sugar. Then add the egg yorks again one after another. In the end mix in the flour, grounded almonds and vanilla extract. Pour into the baking pan and let it bake for about 15 minutes. Then remove from oven. Remove biskuit from baking pan and let it cool. Do the same for the other two biskuits.

Now heat up the marmelade and roll out 450 g of the fondant in circle shape. Take one half of the chocolate biskuit and spread with the chocolate nut spread. Top with the other half. Spread with a thin layer of marmelade and then cover with the fondant. Carefully press the fondant at the cake until its covered all over.

Next the almonds biskuits. Take one biskuit and spread with the dulce de leche, top with the next biskuit layer and spread again with dulce de leche. Now spread again with a thin layer of marmelade.


Roll out 350 g of the fondant again in circle shape and cover the almonds biskuits with it. Take the blue food coloring and paint the small cake with it and let the color set completely. Place the small cake on top of the bigger cake. Take the rest of the fondant and roll it out, cut out the Volkswagen logo (or any other logo). Place it on top of the smaller cake, then decorate with the chocolate pralines.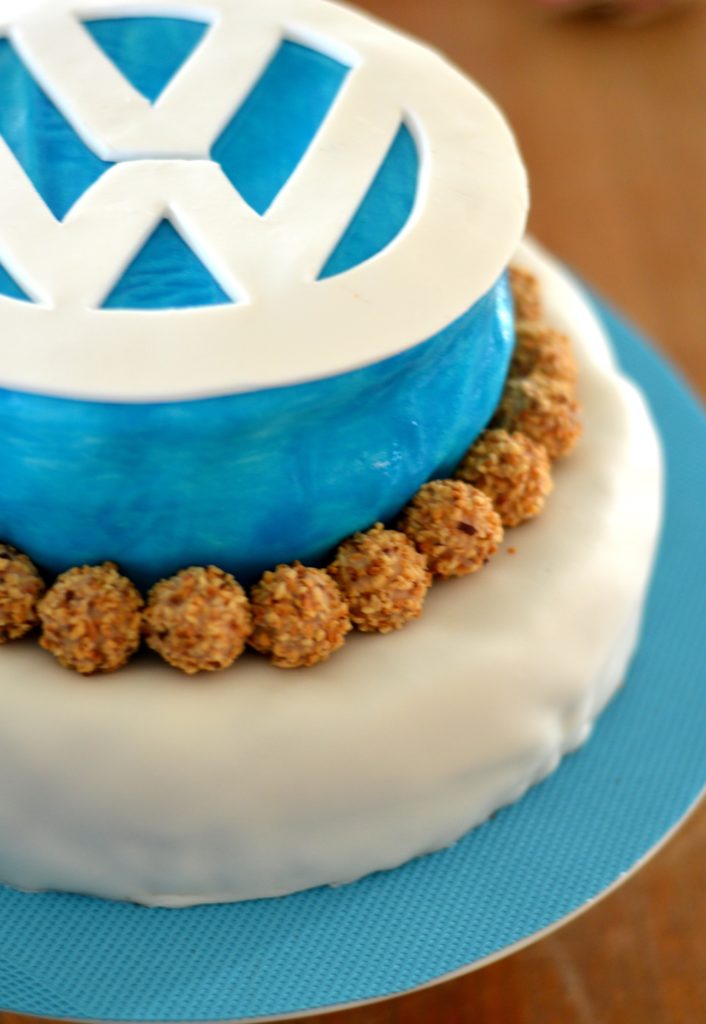 Have fun baking!
Lots of Love,
Caprice