OH YEES! These are the only words that cross my mind when I am thinking of this enormous batch of fluffy buttermilk pancakes accompanied by golden maple syrup and crispy caramlized bacon chips!
Of course there is a story behind this bombastic and maybe curious breakfast idea…
Two weeks ago I was in Canada to see my brother and to travel around with him. On our trip through the provinces of New Brunswik, Quebec and Ontario along the Saint Lawrence River we not only experienced a snowy and ice cold Canada (up to -25°C!), met nice and open-minded people, we tried as well some new food! During our journey we got to know some new sweet and salty treats.
For example we tried sweet 'Beaver Tails' in Ottawa (some fried pastry served with heavy cream, maple syrup, cookie crumbles, bananas…), had the famous smoked meat in Montreal and I really loved the maple leaf shaped cookies we bought in Toronto (crispy cookies with a delicious and creamy maple syrup filling)! And of course we were forced to try 'poutine' which is offered throughout all the cities we visited, and can be best described as a layering of french fries, cheese and gravy. Moreover we ate amazings burgers (my favorite one was with caramlized onions and bacon), fantastic pancakes (… Canadian maple syrup rocks!) and mouthwatering sweet potato fries with homemade dips during our trip!
Here are some cold impressions of Toronto, Quebec City, Montreal and Ottawa for you!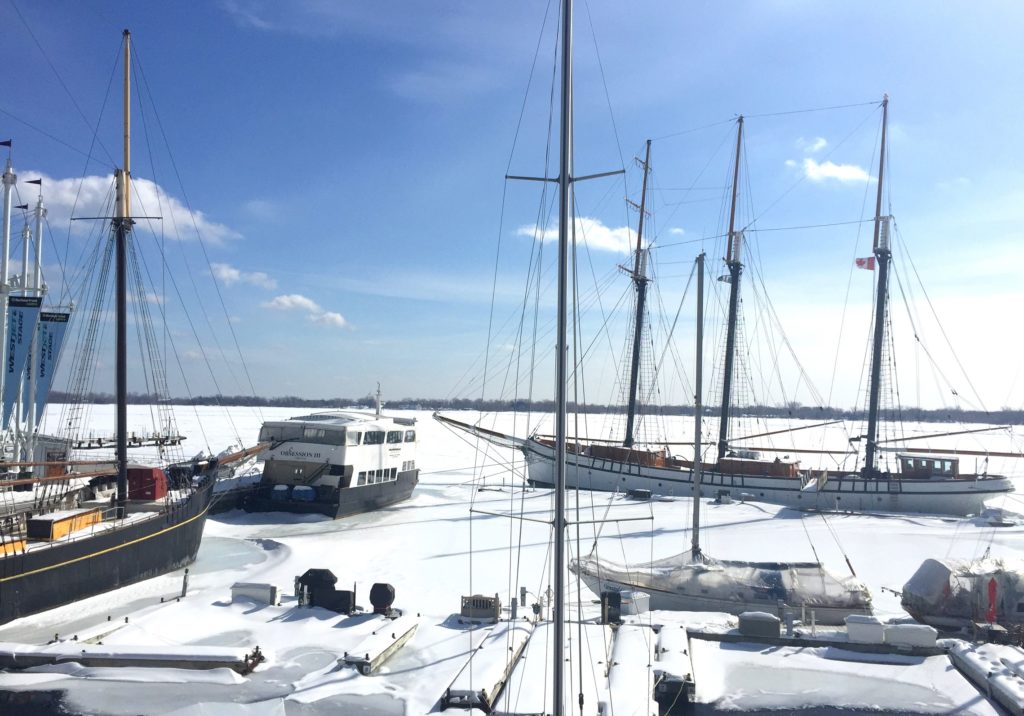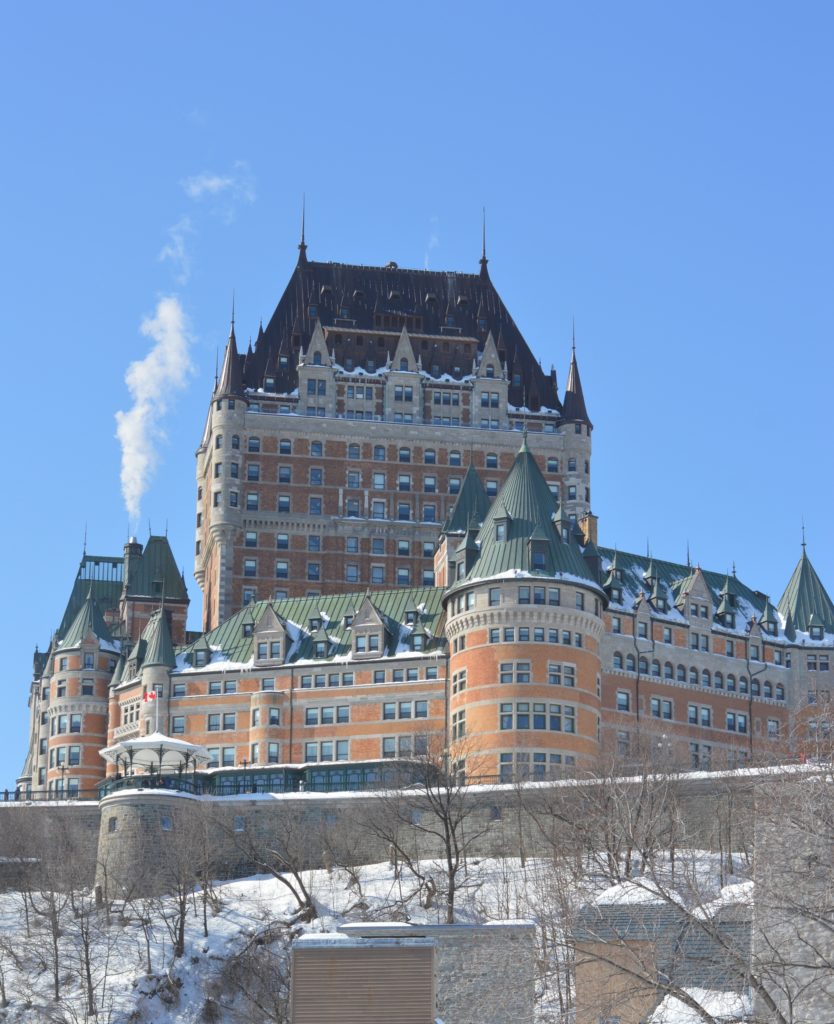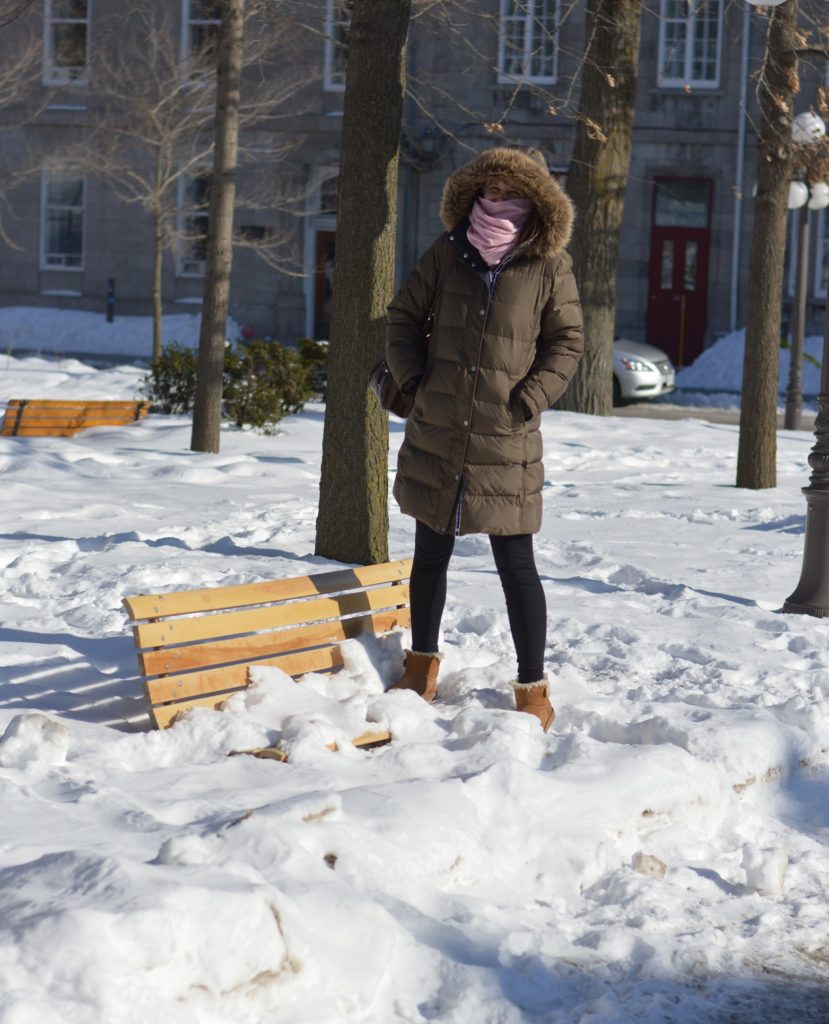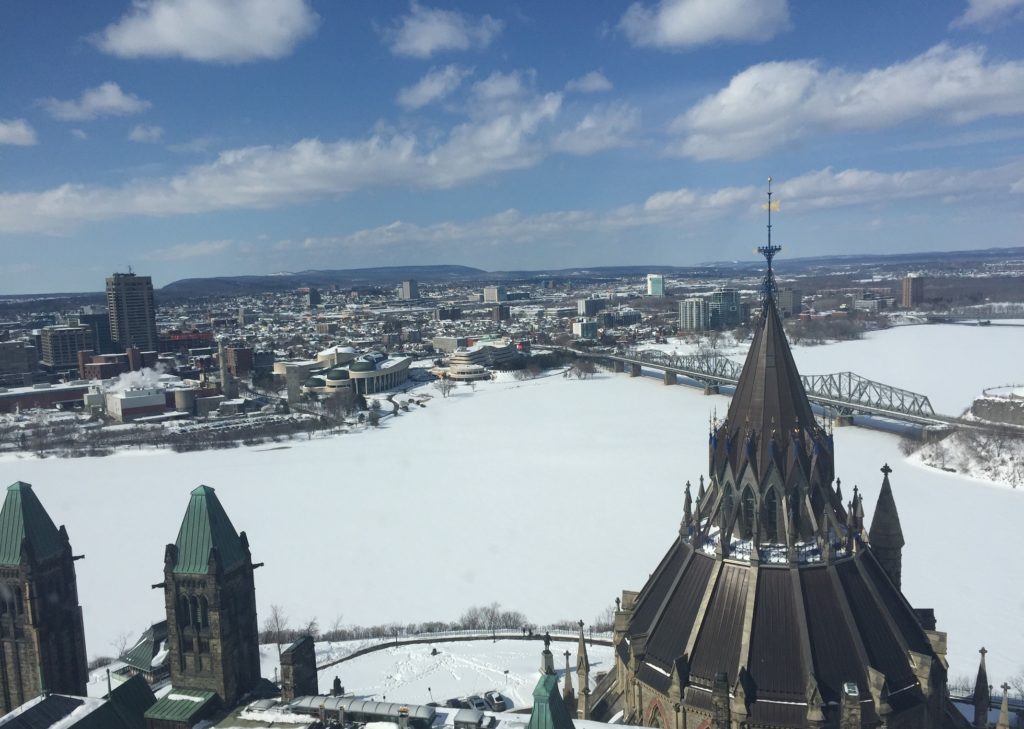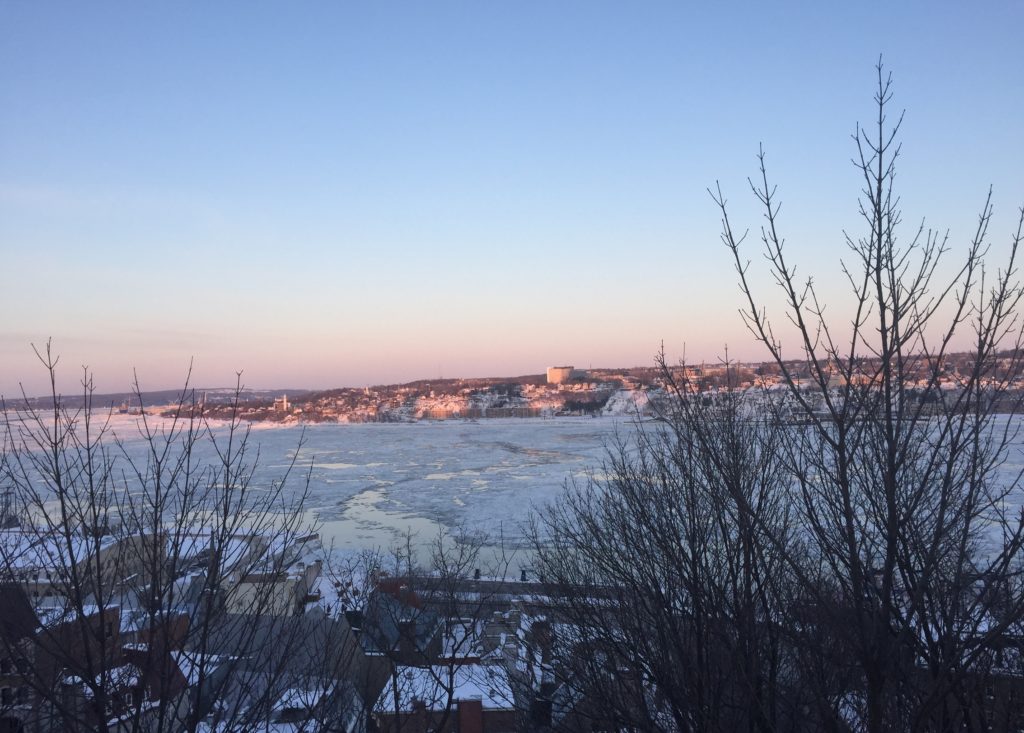 In the end I left Canada with a suitcase full of cookies, maple syrup and souvenirs and my mind full of new impressions and recipe ideas! I definitely gonna come back soon (and I really wanna see the Canadian summer some time)!
Inspired by all these goodies I thought about creating an all-in-one recipe which best combined all different flavors in a delicious way… And here it is my interpretation of the canadian way of breakfast: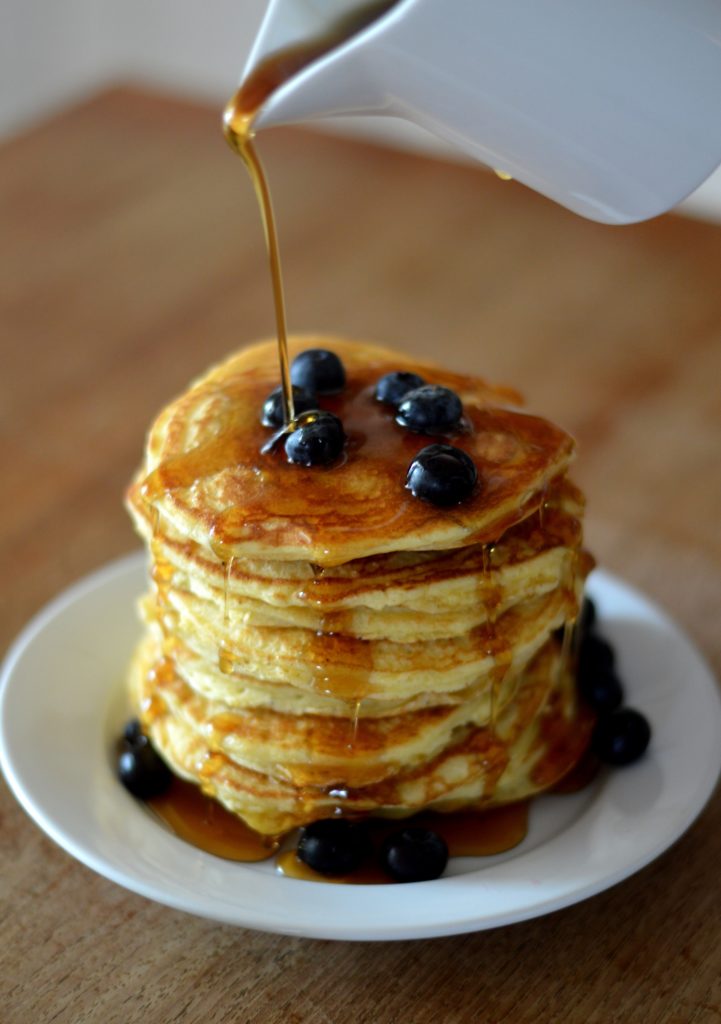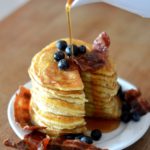 PANCAKES WITH MAPLE SYRUP AND CARAMELIZED BACON CHIPS
Total Time
1
hour
10
minutes
Ingredients
For the pancakes:
220

g

buttermilk

125

g

flour

1

tbsp.

baking powder

pinch

of salt

3

eggs

2-3

tbsp.

butter for baking
For the bacon:
4

slices

of thin bacon

4-5

tbsp.

brown sugar

0,5

tbsp.

cinnamon
For the decoration:
200

g

blueberries for decoration

Maple syrup
Instructions
For the bacon: Preheat oven to 190°C. Line a baking sheet with foil and set an oiled wire rack on top. Whisk the brown sugar and cinnamon together. Take a bacon slice and dip into the mix, coating both sides and place it on the rack. Bake for about 18 minutes until the bacon looks caramelized and light brown.

In a bowl separate eggs and beat the egg whites until stiff. In another bowl whisk together flour, salt, buttermilk and egg yolks. Carefully mix in the stiff egg whites into the other mix. Mix until just combined (do not overmix!).

Set a frying pan or large skillet over medium heat. Put a little butter and wait until it's melted and bubbly. Pour some batter in the pan. Cook until surface of pancake has some bubbles then flip with a spatula and cook until pancakes are golden brown on both sides.

Serve together with blueberries, maple syrup and caramelized bacon.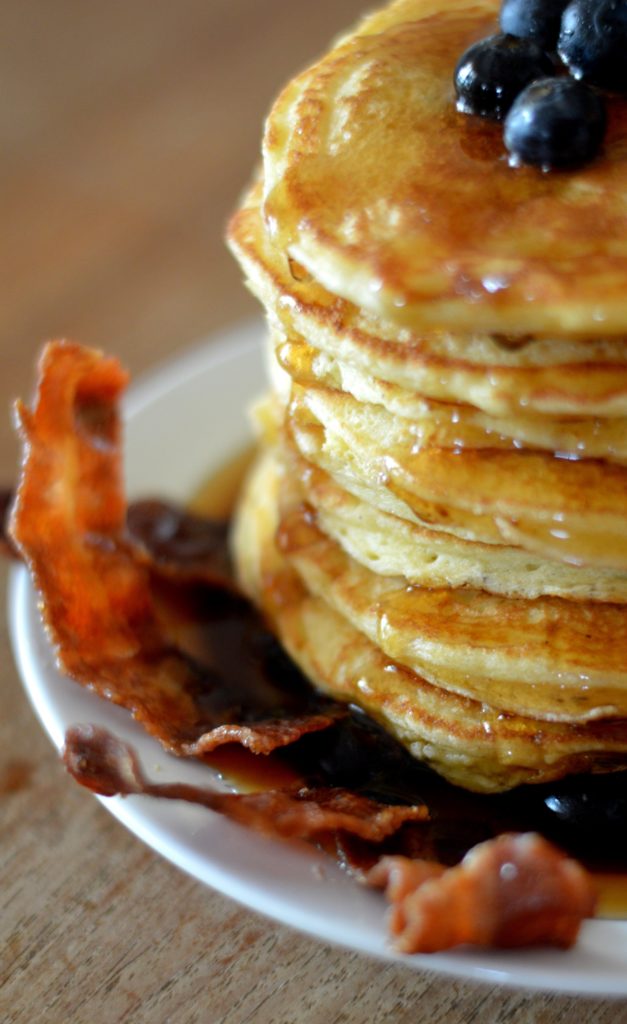 Do it the Canadian way!
Lots of Love
Caprice