There are some exciting news to announce regarding baking in a show kitchen! Maybe some of you have already seen the announcement on my Instagram account. Do you remember my trip to the Bahlsen CBA in Munich, where I spent an amazing weekend and had the opportunity to meet other awesome bloggers, experts and of course the lovely girls from Bahlsen? Now the next sweet tooth project is following!
This year Bahlsen started their big Roadshow "Sweet on Streets" through Germany to treat you with heavenly variations of different cookies and toppings, new recipes and sweet trends! The stops with the mobile Bahlsen show kitchen will be at different festivals throughout 7 cities in Germany! For more information visit the sweet on streets website.
At the stops you have the opportunity to taste the latest baking trends which just came over from Brooklyn (for some more information just visit the lovely blogs from zuckerzimtundliebe and bake a wish). We are going to share with you some treats, which are inspired by the latest modern baking trends coming from Brooklyn. That means basic recipes get some twists and are refined by using new and delicious ingredients such as marshmallows, sea salt, poppy seed… Sounds good, right?
Now the exciting news: I'm part in it! From the 19. to 21. June you can visit me in the show kitchen at the Bahlsen Cube at the biggest festival in Northern Germany, the Kieler Woche!! I will also take over the Bahlsen Instagram to give you some live updates!!
For those who aren't able to come to the Kieler Woche, the Bahlsen Roadshow will as well visit the following cities:
04. – 05.07. Buntes Altona, Hamburg
17. – 18. 07. Sony Center, Berlin
07- . 09.08. Cityfestival, Cologne
28. – 30.08. Museumsfest, Frankfurt
11. – 13.09. Streetlife Festival, Munich
There you can visit other lovely bloggers! In Hamburg you will meet Kathrin from Fleurcoquet, Heidi from die feinschmeckerin will be in Berlin and Frankfurt, Carla Kroketti from bake a wish in Cologne and you will meet Jeanny from zuckerzimtundliebe in Munich!
So make sure to keep one day free and come along to have delicious 'Sweets on Streets' and many other surprises! I am looking forward to meeting you and enjoy the latest sweet trends, which came right from NYC with you!
To have a small cookie foretaste I created a super easy dessert, which is fast in making and perfect with your favorite cookies!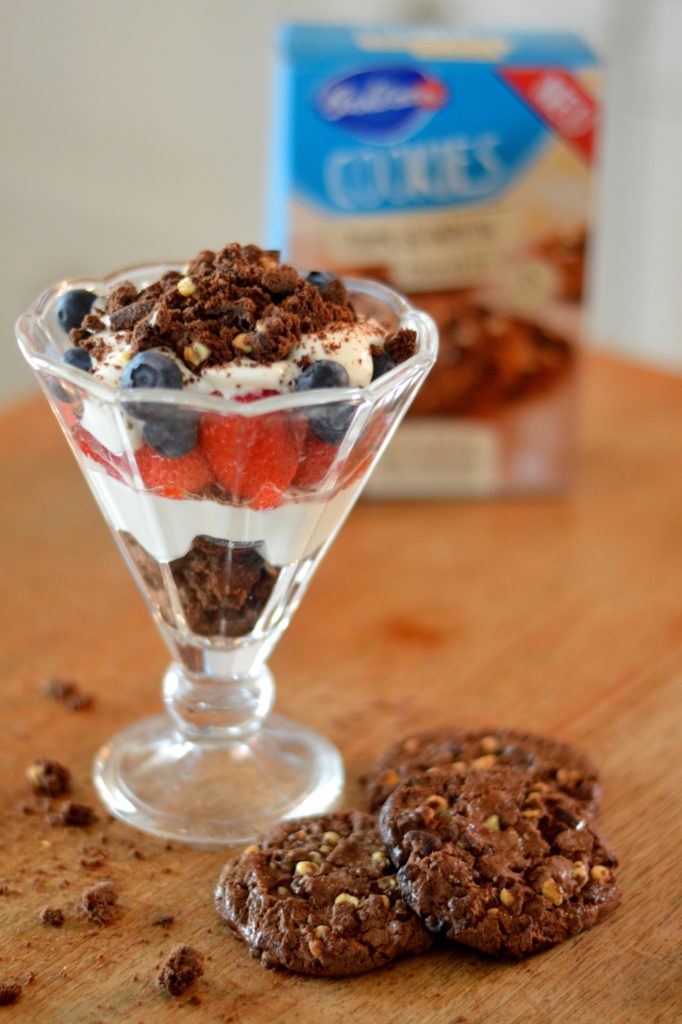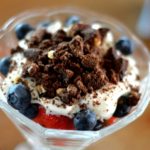 DARK & WHITE CHOCOLATE COOKIE CRUMBLE WITH MASCARPONE
Ingredients
250

g

mascarpone

150

g

yoghurt

100

g

cottage chesse

2

tbsp.

Sugar

1

tbsp.

Vanilla extract

250

g

strawberries

3

tbsp.

blueberries

6

of your favorite cookies

I took the delicious Triple chocolate cookies from Bahlsen
Instructions
Cream together the mascarpone, yogurt, cottage cheese, sugar and vanilla extract.

Wash strawberries and cut into smaller chunks. Wash blueberries as well.

Crumble cookies in tall glasses (or any other bowl) and one after another add the cream and fruit until all gone. Cover with lots of cookie crumbs.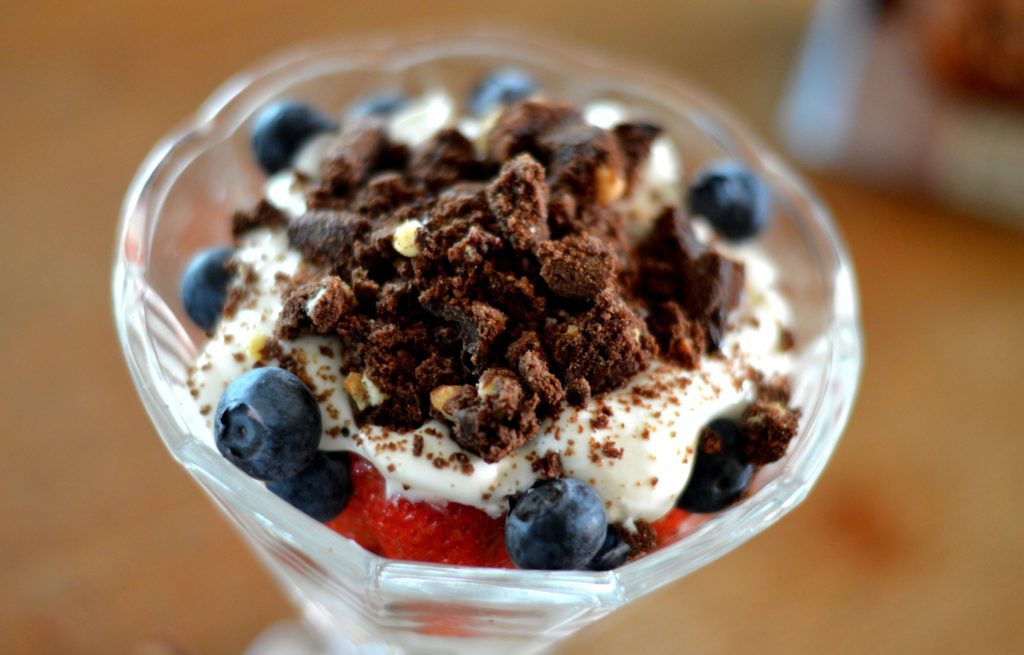 Have fun!
I am looking forward to meeting you, guys!
xxx
Caprice