[So ready for my favourite season of the year] carrot cake with caramelized walnuts
Today I show you my favourite recipe for a delicious carrot cake which is the perfect start into spring season (my favourite season of the year!) and makes by the way an ideal Easter treat!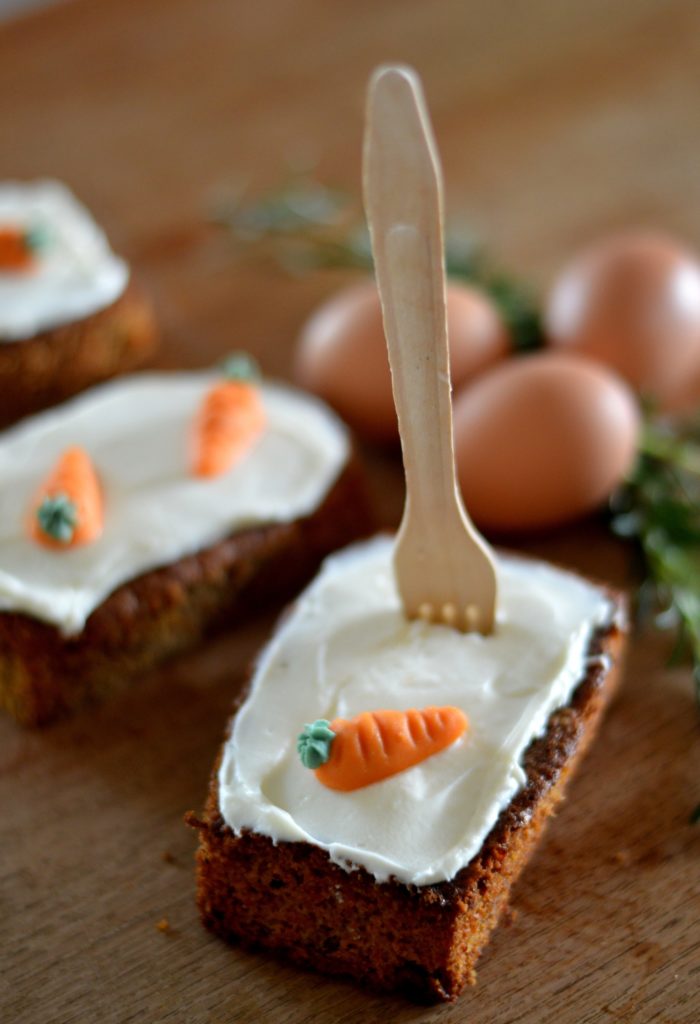 The recipe comes together with some news or more precisely some transformation in my personal life and the reason why I have been so absent the last months. I am now taking the last steps to finally complete my master's degree. I am lucky to have the possibilty to write my master thesis in cooperation with a company and I am very thankful for this opportunity.
But this means moving away from my beautiful and beloved Hamburg. Last month I got the keys for my new apartment in another great city in Germany, Frankfurt. I am very excited to get to know another city and to start a new job! Because this change needed a lot of preparation, I was not able to prepare posts for you in the past. I hope after a short time of acclimatization I can present you more recipes and stories again (Unfortuntely I have to admit that I don't have an oven in my new flat – But I'll make the best of it!)
But now, some words about this today's sweety! This moist and absolutely not dry (!) cake can be baked 1-2 days ahead so you are not going to stress yourself during Easter. You can taste the different aroma of cinnamon, ginger and nutmeg and sometimes an intense sweetness when biting onto a caramlized walnut. The refreshing frosting is the perfect completion and can be topped by these little carrots made out of marzipan which are of course eatable!
I hope you gonna enjoy your Easter days and the warm temperatures (Frankfurt is so much warmer than Hamburg!). I can't wait to be home for Easter to celebrate with my family and of course I have to bake this cake again! And here is the recipe for you: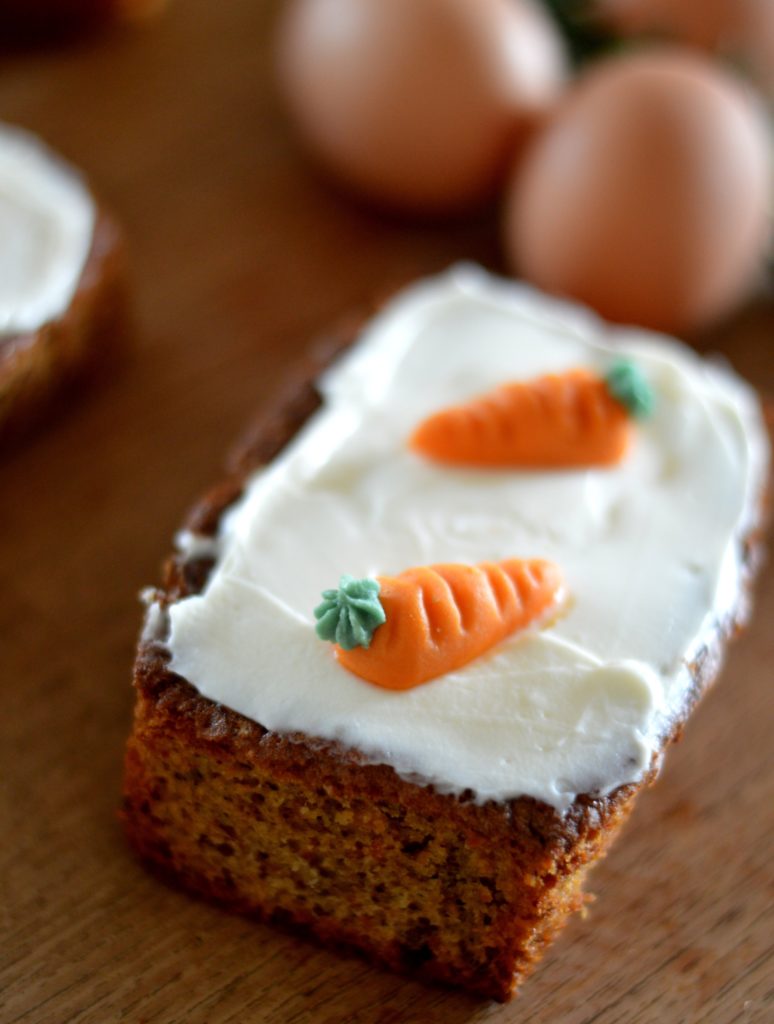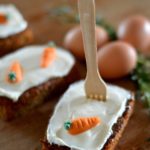 CARROT CAKE WITH CARAMELIZED WALNUTS
Total Time
1
hour
20
minutes
Ingredients
for the cake:
280

g

butter

280

g

brown sugar

1

tbsp.

vanilla sugar

5

eggs

170

g

flour

pinch of

salt

2

tbsp.

baking powder

120

g

grounded almonds

60

g

walnuts

30

g

white sugar

1

tbsp.

cinnamon

pinch of

nutmeg

0,5

tbsp.

ginger powder

280

g

grated carrots
for the frosting:
120

g

mascarpone

220

g

cream cheese

80

g

confectioners sugar

2

tbsp.

lemon juice
Instructions
Preheat oven to 180° degrees. Prepare a baking pan or 8 small baking pans as I did by oiling them.

Caramilze the walnuts by boiling 30 g sugar and 30 g water until it shines light brown. Add the waldnuts and mix. When they are turning brown remove and put separately on baking paper.

Separate eggs and beat egg whites, with a pinch of salt, until stiff.

In another bowl mix together butter and white sugar until very creamy (the longer you mix the better the batter will be). Add egg yolks one after another and vanilla extract until nicely incorporated.

Now add the flour, baking powder, carrots, almonds and walnuts - Do not overmix! At last add stiff egg whites. Pour batter into the prepared baking pan.

Bake for 45-50 minutes (depends on your oven!).

For the frosting: Cream together all the ingredients with an electric mixer. Spead cream onto the cakes and decorate as you like (these little carrots are available in every well-stocked supermarket).
Happy Easter everybody!
xxx
Caprice
---
---